'Days Gone' PS4 gameplay, trailer and everything from Sony E3 2017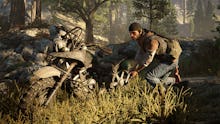 Sony offered a fresh look at Days Gone on Monday night. Here's everything else we learned about the upcoming zombie game at Sony's E3 2017 showcase.
Days Gone is rife with the shuffling masses the game has dubbed "freakers," and you'll have to fight through tons of them if you want to survive. This open-world survival title first made a splash during E3 2016 when it was announced, giving off a personable apocalyptic vibe that served up an engaging cast of characters and a very cool trailer to go with it.
The newest footage Sony showed off on Monday during its E3 2017 press conference gave viewers an additional look at life as Decon St. John as he makes his way across the in-game world on his motorcycle, looking for life and also a way out.
Unfortunately there's no release date just yet for Days Gone, but we'll make sure to update you when we find one out.
More news from Sony PlayStation E3 2017
Check out more of our coverage from the PlayStation E3 2017 press conference, including the sweeping new Shadow of the Colossus remake, gameplay for Days Gone and a look at Monster Hunter Worlds. Don't miss the breathtaking cinematics from God of War 4 and Detroit, as well as the showstealing game: Spiderman.