'Destiny 2' Sony E3 2017: Release date set for Sept. 6, PS4-exclusive content revealed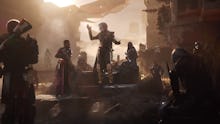 Sony offered up a fresh look at Destiny 2 during its E3 2017 showcase. Here's what we learned about the new game, which is set to launch on Sept. 6, with the PC release on Oct. 24.
During the press conference, Sony revealed some content that will be exclusive to PS4 until at at least fall 2018, including a strike called Lake of Shadows, the Apex ship, a PvP map called Retribution and an exotic weapon called Borealis.
Destiny 2 will have a lot for fans to look forward to, including guided games, PS4 exclusive loot, a finally confirmed PC release date and story that is actually in the game.
More news from Sony PlayStation E3 2017
Check out more of our coverage from the PlayStation E3 2017 press conference, including the sweeping new Shadow of the Colossus remake, gameplay for Days Gone and a look at Monster Hunter Worlds. Don't miss the breathtaking cinematics from God of War 4 and Detroit, as well as the showstealing game: Spiderman.