E3 2017 Sony 'Uncharted: Lost Legacy': New trailer and gameplay revealed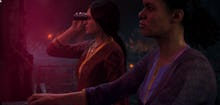 Sony kicked off its E3 2017 press conference by releasing a new trailer for Uncharted 4: A Lost Legacy, a standalone story meant to exist alongside Uncharted 4. The trailer, embedded below, kicks off with some nice music live on stage before diving into the more juicy story details.
In the trailer, characters Chloe Frazer (Uncharted 2 and Uncharted 3) and Nadine Ross (Uncharted 4) are on the hunt for a relic known as the "tusk of Ganesh," a reference to the Hindu deity of the same name.
Since both Chloe and Nadine have reputations for their shifting, hard-to-pin-down allegiances, it looks like the unlikely pair will butt heads throughout their adventure.
More news from Sony PlayStation E3 2017
Check out more of our coverage from the PlayStation E3 2017 press conference, including the sweeping new Shadow of the Colossus remake, gameplay for Days Gone and a look at Monster Hunter Worlds. Don't miss the breathtaking cinematics from God of War 4 and Detroit, as well as the showstealing game: Spiderman.