'Horizon Zero Dawn: The Frozen Wilds' Sony E3 2017: Release details, gameplay and more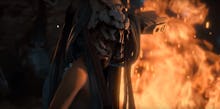 Horizon Zero Dawn is getting some downloadable content via a DLC titled "The Frozen Wilds" set to launch in 2017. The expansion pack continues the story of Horizon Zero Dawn, bringing protagonist Aloy to some snowy wastes to presumably wrangle more robot dinosaurs, Sony announced during its E3 2017 press conference Monday.
Based on the trailer, it's not entirely clear how big the new area is or what new gameplay mechanics are in store. That said, Horizon was good enough that plenty of people are surely excited about having more of it to play — regardless of what's included.
A specific release date was not divulged, but "The Frozen Wilds" will drop sometime in 2017.
More news from Sony PlayStation E3 2017
Check out more of our coverage from the PlayStation E3 2017 press conference, including the sweeping new Shadow of the Colossus remake, gameplay for Days Gone and a look at Monster Hunter Worlds. Don't miss the breathtaking cinematics from God of War 4 and Detroit, as well as the show-stealing game Spiderman.