'Monster Hunter World' Sony E3 2017: Sony shows exclusive trailer for new 'Monster Hunter' game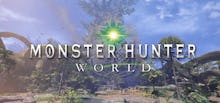 Although a lot of eyes have been peeled for Monster Hunter XX getting a Nintendo Switch release here in North America, Sony has just pulled a fast one on everyone, releasing a teaser trailer for Monster Hunter World, an upcoming Monster Hunter game.
The teaser trailer included Monster Hunter staples like climbing, mounting monsters and even swimming — absent from the series since Monster Hunter Tri — and showcased new mechanics like disguises, as well as classic weapons like the great sword and the bowgun. The trailer is embedded below:
Monster Hunter World is coming early 2018.
More news from Sony PlayStation E3 2017
Check out more of our coverage from the PlayStation E3 2017 press conference, including the sweeping new Shadow of the Colossus remake, gameplay for Days Gone and a look at Monster Hunter Worlds. Don't miss the breathtaking cinematics from God of War 4 and Detroit, as well as the showstealing game: Spiderman.