'Shadow of the Colossus' PS4 Remake: Teaser, release details and everything we know so far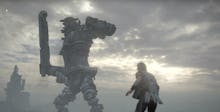 Sony surprised its E3 2017 on Monday night with a trailer for an upcoming remake of Shadow of the Colossus.
The remake comes nearly 12 years after the game's original release on Oct. 18, 2005. Based on the trailer, the upgrade will feature updated graphics and look more similar to the The Last Guardian, which was released last December.
More news from Sony PlayStation E3 2017
Check out more of our coverage from the PlayStation E3 2017 press conference, including the sweeping new Shadow of the Colossus remake, gameplay for Days Gone and a look at Monster Hunter Worlds. Don't miss the breathtaking cinematics from God of War 4 and Detroit, as well as the show-stealing game Spiderman.