'Marvel vs. Capcom: Infinite' Sony E3 2017: Release date, free demo and new trailer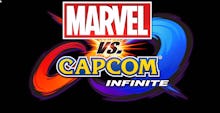 Marvel vs. Capcom: Infinite made an appearance at Sony's E3 2017 showcase, revealing a new trailer and announcing a free story demo available for download.
In the trailer, Gamora — with help from the Avengers — temporarily allies with Thanos to help get the infinity stones back from Ultron-Sigma (which should go well and definitely won't have horrible repercussions). Mega-Man's resident bad boy, Zero, also makes an appearance in all his ponytailed glory.
The facial animation in Marvel vs. Capcom: Infinite doesn't look quite as polished as that in Injustice 2, but it still has a cartoony charm to it.
Marvel vs. Capcom: Infinite will be available Sept. 19.
More news from Sony PlayStation E3 2017
Check out more of our coverage from the PlayStation E3 2017 press conference, including the sweeping new Shadow of the Colossus remake, gameplay for Days Gone and a look at Monster Hunter Worlds. Don't miss the breathtaking cinematics from God of War 4 and Detroit, as well as the show-stealing game Spiderman.