JPMorgan Chase pulls NBC ads over Megyn Kelly's Alex Jones interview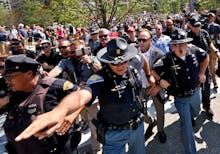 Banking giant JPMorgan Chase has pulled its advertising from Sunday Night With Megyn Kelly — and all other NBC programming — until after Kelly's June 18 interview with conspiracy theorist Alex Jones, the Wall Street Journal reported.
According to the Journal, JPMorgan Chase does not want its ads to "appear adjacent to any promotions for the interview." Jones has aggressively deployed his signature media company, InfoWars, to spin various conspiracy theories — like calling the mass shooting at Sandy Hook Elementary School in Newtown, Connecticut, a hoax or claiming a Washington, D.C. pizza restaurant was the nexus of a powerful pedophile network.
News of the advertising pullout comes the same day Kristin Lemkau, chief marketing officer at JPMorgan Chase, tweeted she was "repulsed" as an advertiser that Kelly would give Jones airtime. Kelly responded in her own tweet, arguing Jones was already well-known and has established links to President Donald Trump.
BuzzFeed News backed Kelly on Monday evening, arguing Jones is an "architect of our current political moment, and as such, the mainstream media shouldn't try to shield its audience from him or pretend he doesn't exist — it should interrogate him."
Jones, BuzzFeed noted, has made a lucrative career out of his conspiracy theories, with former employees suggesting he made anywhere from $10 million to $18 million between 2012 and 2013. InfoWars has expanded considerably since then.