'Spider-Man' Sony E3 2017: Release date, gameplay, trailer and more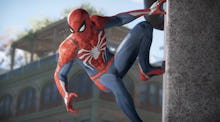 Sony just revealed its new exclusive Spider-Man game for PS4 during its E3 2017 press conference Monday night. Here's our first look at Insomniac Games' exciting new title, scheduled for launch in 2018.
Unlike the upcoming Spider-Man Homecoming movie, this web-slinger tale appears to feature both Miles Morales and Peter Parker. Though the gameplay demo Sony showed was light on story, it interestingly featured Spider-Man tentatively working with Wilson Fisk to get some intel.
If you liked the Spider-Man 2 game back in the day, this is the game for you. It's an open-world action game where you use webs to swing around New York City. In Monday's demo, Spidey was chasing after a helicopter in a pretty crazy sequence that involved a whole lot of quicktime events. It's not clear if most of the game's action will be similar, but it was visually impressive to say the least.
The combat looked fluid and stylish, with the spidey-sense ability allowing the player to think fast before enemies attack. It also features a lot of slow-motion acrobatics and environmental attacks. In short, it looks pretty rad.
The game doesn't have any kind of subtitle at this point, so Insomniac seems to be sticking with Spider-Man for now — simple, yet effective. It launches exclusively on PS4 in 2018.
More news from Sony PlayStation E3 2017
Check out more of our coverage from the PlayStation E3 2017 press conference, including the sweeping new Shadow of the Colossus remake, gameplay for Days Gone and a look at Monster Hunter Worlds. Don't miss the breathtaking cinematics from God of War 4 and Detroit.