Jeff Sessions asked Congress for the right to prosecute medical marijuana growers and dispensaries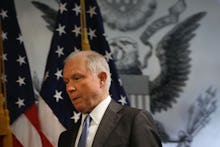 Attorney General Jeff Sessions sent a letter Congress in May asking legislators to remove existing federal protections on medical marijuana growers and dispensaries — a move that would allow the Justice Department to interfere in state efforts to legalize the drug for medical use.
In the letter — first reported by Mass Roots and confirmed by the Washington Post — Sessions asked Congress to undo the Rohrabacher-Farr amendment, which prohibits the Justice Department from prosecuting medical marijuana dispensaries that follow their state laws.
"I believe it would be unwise for Congress to restrict the discretion of the department to fund particular prosecutions, particularly in the midst of an historic drug epidemic and potentially long-term uptick in violent crime," Sessions wrote in the letter to Congress. "The department must be in a position to use all laws available to combat the transnational drug organizations and dangerous drug traffickers who threaten American lives."
The Rohrabacher-Farr amendment, part of the bill that is keeping the government funded through September, says, "None of the funds made available in this act to the Department of Justice may be used ... to prevent any [states] from implementing their own laws that authorize the use, distribution, possession or cultivation of medical marijuana."
But in signing that funding bill, President Donald Trump included a signing statement that suggested his administration may not follow that amendment.
"I will treat this provision consistently with my constitutional responsibility to take care that the laws be faithfully executed," Trump wrote, a nod to the fact that the federal law still prohibits the use of marijuana and other drugs.
Under former President Barack Obama's administration, the Department of Justice chose not to prosecute marijuana cases in states that legalized the drug.
But Sessions has suggested the Trump administration would take a different tack, and possibly crack down on both medical and recreational marijuana use, even in states that have legalized the drug.
In his letter to Congress asking for an end to the Rohrabacher-Farr amendment, Sessions said marijuana "has significant negative health effects" and linked the drug to "an increased risk of psychiatric disorders such as psychosis, respiratory ailments such as lung infections, cognitive impairments such as IQ loss and substance use disorder and addiction."