Australian site apologizes to Roxane Gay after calling the author's size "imposing"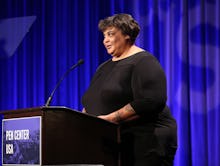 Australian site Mamamia has issued an apology to Roxane Gay after regaling its readers with a list of the alleged accommodations they had to make for their interview with the author.
According to the Guardian, in a now-deleted article, Mamamia writer Mia Freedman called Gay's size "imposing and a logistical nightmare for her." Freedman went on to detail alleged requests Gay's publishers made to the outlet, and called the breach of confidence a "fundamental part of the story."
"How many steps were there from the [curb] to the door of the building?" Freedman wrote of her exchanges with the publishers. "Were there any stairs? How many? How big was the lift and was there a goods lift?"
Mamamia included many of these requests in a description of the site's podcast with Gay. The bitter irony of Mamamia's slip-up is that Gay is doing press for Hunger: A Memoir of (My) Body, a book about living in the world as a woman of size.
"A lot of planning has to go into a visit from best-selling author … Roxane Gay," read the podcast's original synopsis. "Will she fit into the office lift? How many steps will she have to take to get to the interview? Is there a comfortable chair that will accommodate her six-foot-three, 'super-morbidly obese' frame?"
The description assured readers these questions weren't "disclosed with a mean spirit."
Gay begged to differ.
"I am appalled by Mamamia," Gay wrote on Twitter Monday. "I can walk a fucking mile."
"It is cruel and humiliating," she added.
Mamamia issued a statement on Tuesday addressing the incident, writing that its staff is "mortified" to have upset Gay, whom they respect and admire.
"As a publisher that's consistently championed body diversity and representation in the media, we believe the conversations sparked by Roxane's book are vitally important for women, and are disappointed our execution of this story hasn't contributed in the way we intended," the statement read. "We're deeply apologetic that in this instance we've missed the mark in contributing to this discussion."
The site noted that they've since updated the podcast description in addition to taking down Freedman's corresponding article.
Gay said she's already encountered her fair share of uncomfortable situations doing press for this book in particular, which follows a collection of fiction she released earlier this year called Difficult Women. On Monday, Gay said she had a "disaster interview," which involved a reporter asking her to describe her body for them.
"Not entirely sure I am going to be able to keep it together during the press for this book," Gay wrote in a subsequent tweet.