Nintendo E3 2017 Conference: Start time, livestream countdown and what to expect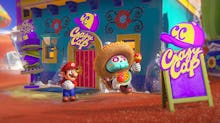 Nintendo's coming in fashionably late to E3 2017, finishing off the cycle of press conferences started by Electronic Arts on Saturday. As it's done for the last few years, Nintendo will be livestreaming a pre-recorded video presentation in lieu of hosting an on-stage conference. The presentation begins at 12 p.m. Eastern.
Here are all the details about how to livestream it and what games you can expect to see.
Nintendo E3 2017: Conference start time, livestream and how to watch
The conference, which will last about 30 minutes, will be livestreaming from Nintendo's YouTube channel starting at 12 p.m. Eastern.
Immediately following the so-called "spotlight" presentation, Nintendo will be demoing a number of those games for Nintendo Switch and Nintendo 3DS as a part of its "Nintendo Treehouse Live" series.
Nintendo E3 2017: What games will the company show?
Like any E3 show, there are a number of titles Nintendo will definitely highlight, but there's always the potential that it has something secret up its sleeve, too. In terms of known quantities, here are the games Nintendo is likely to show:
• Arms
• Mario + Rabbids Kingdom Battle
It's also possible that Nintendo will be sharing more details about the 3DS Pokémon games it announced during its recent Pokémon-centric livestream.
If Nintendo is feeling adventurous, it might decide to reveal some titles that have been rumored, like Pokémon Stars or a new Super Smash Bros. game for Nintendo Switch — but it's pretty unlikely.
Either way, we won't have long to know for sure. We'll be covering all the biggest news from Nintendo's E3 presentation as it rolls in.
More gaming news and updates
Check out the latest from Mic, like this essay about the sinister, subtle evils lurking in rural America that Far Cry 5 shouldn't ignore. Also, be sure to read our review of Tekken 7, an article about D.Va's influence on one Overwatch player's ideas about femininity and an analysis of gaming's racist habit of darkening villains' skin tones.