Katy Perry changes "Swish Swish" lyric that was rumored to be about Taylor Swift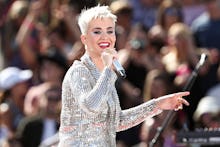 Katy Perry is calling a truce on her bad blood with Taylor Swift. While performing "Swish Swish" during a YouTube livestream concert on Monday, Katy Perry changed one of the song's rumored lyrics about Swift.
Perry sang, "God bless you on your journey, oh baby girl." The original line in the song is much different: "Don't you come for me."
Perry addressed the feud over the weekend during her livestream with Arianna Huffington for The Thrive Global Podcast. Perry said she forgives Swift and apologized for anything she may have done.
"Maybe I don't agree with everything she does and she doesn't agree with everything I do, but I just really, truly want to come together in a place of love and forgiveness and understanding and compassion," Perry said.
Perry has played coy when it comes to whether "Swish Swish" is about Swift. While everyone assumes it is, Perry said it's more of a song about fighting your bullies.
Meanwhile, Swift's "Bad Blood" is rumored to be about her alleged feud with Perry. Swift told Rolling Stone in 2014 that the song is about another female singer who tried to ruin her tour. Perry addressed that in her Carpool Karaoke with James Corden in May.
The "Chained to the Rhythm" singer said she tried to reach out to Swift after their falling out:
It was a full shutdown and then she writes a song about me, and I'm like, OK, cool, cool, cool, that's how you want to deal with it? Karma!
With Perry now singing a different tune, the feud that seemingly would never end may finally be settled.
Mic has ongoing music coverage. Please follow our main music hub here.