'Spider-Man: Homecoming' theory on Zendaya's character debunked on Reddit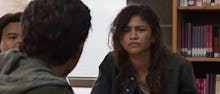 In just a few weeks, Spider-Man will be hitting the big screen for his sixth solo film in less than two decades: Spider-Man: Homecoming. While much of the film's plot is hinted at in the recently released trailers — we know it takes place after Captain America: Civil War — there is still a considerable amount of mystery surrounding one particular character: Peter Parker's friend Michelle, played by former Disney Channel star Zendaya.
Reports in early June suggested that Zendaya was actually playing Michelle Toomes, which would make her the daughter of Michael Keaton's villainous Vulture, whose real name is Adrian Toomes. These reports came after plot details from early releases of Homecoming's junior novelization began to leak online. It now seems, however, that those reports were a bit premature.
Fans on Reddit and Tumblr are beginning to push back on the rumors, with several users saying that they have read the film's junior novelization, and at no point is Zendaya's character given a last name. While Mic has not yet read the novelization to confirm, it does appear from the growing consensus online that Michelle's last name will remain a mystery — at least for the time being.
Of course, just because Michelle's surname is not revealed to be Toomes in the novelization doesn't mean that Zendaya's character will not end up being related to the Vulture. After all, it would not be the first time in a Spider-Man film that one of Peter Parker's best friends is closely related to one of his greatest enemies. For instance, in Sam Raimi's very first Spider-Man film, Harry Osborn, played by James Franco, is the son of Parker's archenemy, Green Goblin, played by Willem Dafoe.
In fact, in every Spider-Man film released to date, Peter Parker has some form of relationship, whether it be as friends, allies or colleagues, with one of the main villains. In Spider-Man 2, it was Parker's mentor figure, Dr. Otto Octavius, who becomes Doctor Octopus. Spider-Man 3 then sees Parker's colleague, Eddie Brock, become Venom, while Harry Osborn begins using his father's Green Goblin tech. This trend then continued in Sony's The Amazing Spider-Man reboots. In The Amazing Spider-Man, another one of Parker's mentors becomes a villain, this time Dr. Curt Conners, who turns into the Lizard. Then in the sequel, Harry Osborn became Green Goblin.
To make a long story short, it would not be surprising at all to learn that Zendaya's Michelle is in fact Vulture's daughter. Such a revelation would be in keeping with pretty much every Spider-Man film released thus far. For now, though, we may just have to wait until the movie is released to know for sure.
Spider-Man: Homecoming will be released in theaters on July 7.
Mic has ongoing coverage of Spider-Man: Homecoming. Please follow our main Spider-Man hub here.