What to know ahead of Jeff Sessions' Senate testimony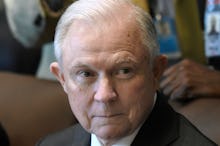 The attorney general will answer questions from senators about his meetings with the Russian ambassador, his role in former FBI Director James Comey's firing, other ties to Russia and more. The hearing before the Senate Intelligence Committee was requested by Sessions and comes less than a week after Comey accused the president of lying and trying to interfere in Russia investigations.
While Sessions is reportedly not releasing an opening statement ahead of his testimony, Axios reports Sessions is expected to dispute Comey's interpretations of some of their conversations. And he will say that, despite reports, there was no second meeting with the Russian ambassador. Here are the six questions we have for Sessions before his testimony.
The hearing will be broadcast live at 2:30 p.m. Eastern.
This is Mic's daily read on Donald Trump's America. We're keeping it brief this a.m. to bring you another special edition of Navigating Trump's America following Jeff Sessions' testimony on the Hill later today. 
Want to receive this as a daily email in your inbox? Subscribe here.
We're seeking your support to expand our coverage of Donald Trump. As little as a $1 a month will give you access to an exclusive group to interact with Mic journalists and grow our reporting. Learn more here.
What we're watching
Today: Jeff Sessions testifies before the Senate Intelligence Committee.
More: He's expected to refute some of what James Comey said last week.
Even more: The president held a very bizarre Cabinet meeting.
Yes, more: The latest on health care.
Trump's agenda today: Meeting with his national security adviser. Meeting with members of Congress. Traveling to Wisconsin.
A bizarre Cabinet meeting
"In 18 years of covering presidents, we have never seen a Cabinet meeting like the one yesterday." That was Axios' Mike Allen's take on the loyalty pledges and effusive praise Cabinet members offered Trump in a 10-minute televised worship session of the president.
The praise was glowing, long-winded and focused entirely on Trump. "We thank you for the opportunity and the blessing that you've given us to serve your agenda," said White House Chief of Staff Reince Priebus. Watch the video.
Dates for the health care showdown
Senate Republicans say they are wrapping up a health care legislation draft, but the bill will not be released until shortly before the vote. Politico reports GOP senators are dialing back promises to repeal the Affordable Care Act, meaning the bill will likely be far more moderate than the House-passed version.
Republicans still want to hold the vote before July 4, but that means they would have to file the bill for scoring by the Congressional Budget Office in the next several days. (The Senate has said it will not vote without a score, unlike the House.) A public version of the bill is not expected until shortly before the vote — and Democrats are not happy about it.
News and insight you cannot miss:
• A close confidante of the president said Trump is weighing firing special counsel Robert Mueller. But it's unlikely to happen. Trump is reportedly being urged not to go through with it and the No. 2 at the Justice Department said last week Trump cannot fire Mueller.
• Greg Gianforte, the Republican elected in Montana's special House election, has pled guilty to assaulting a journalist.
• Another federal court has struck down Trump's travel ban.
• The Hillary Clinton and Bernie Sanders wings of the Democratic party are still resisting each other.
• A bipartisan group of senators announced an agreement on a new round of sanctions on Russia. Trump would not be able to remove the sanctions without congressional approval.