These Golden State Warriors have no love for President Donald Trump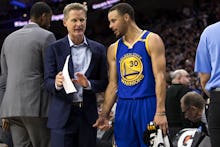 The Golden State Warriors won an NBA championship Monday night, and talk quickly turned to whether the Oakland, California, franchise would boycott the traditional team visit to President Donald Trump's White House.
Many Twitter users encouraged the idea. Some — like financial adviser Josh Brown and New York Daily News columnist Shaun King — even tweeted that the Warriors were already planning to skip the trip as a unanimous team-wide protest. Mic reached out to the Warriors' front office, but has not yet heard back.
Anti-Trump boycotts by sports teams first made headlines in February, when several members of the New England Patriots announced they would reject an invitation from the president to be congratulated after winning the Super Bowl. Players cited Trump's bigotry and policies as their reason for protesting.
But whether the Warriors go through with a team boycott or not, multiple members of the organization have been critical of the president in the past. Below are the anti-Trump comments Warriors players and coaches have made publicly, all of which could make for an awkward visit should the team ever greet Trump at the White House:
Stephen Curry
Curry has an endorsement deal with sports apparel company Under Armour, whose CEO, Kevin Plank, remarked in a February interview with CNBC that Trump was "a real asset" to the country.
Curry responded brusquely the next day in an interview with the San Jose Mercury News: "I agree with that description, if you remove the 'et' [from asset]," Curry said.
The star point guard and two-time league MVP is the only player in the team's starting lineup to comment publicly on the president.
David West
West is usually the first power forward off the bench for the Warriors, but he's also arguably the most outspoken team member when it comes to Trump. He's made multiple, lengthy statements about how bad the president is for the United States and its children.
"[Trump] brought out an element of our society that a lot of folks assumed was dead," West said on the CSN Bay Area's Warriors Insider Podcast in January. "A lot of folks assumed that that part of our country was no longer, based on the election of President Obama. But what Donald Trump did was, he reached for a demographic of people who responded to some of the most infantile, non-decent language that you could expect coming from a president candidate. Folks bit."
West went on to cite his community work with young people, and how Trump's behavior is the "opposite" of what he's trying to teach these youth, especially young men.
"We try to talk our young men out of disrespecting women. We try to talk our young people into being accepting of other people's opinions and other people's walks of life. And [Trump] is the complete opposite of all of that."
"All the tactics that he used to get elected are the very things that someone like me, who works with youth on a consistent basis, are the things that we try to talk our young folks out of being," he said. "We try to talk our young people out of being bullies. We try to talk our young men out of disrespecting women. We try to talk our young people into being accepting of other people's opinions and other people's walks of life. And he is the complete opposite of all of that."
Many of West's comments to CSN Bay Area echo statements he had made previously to ESPN after Trump was elected in November — a development that West called "disappointing" and "disheartening."
"It is kind of unnerving and unsettling when you think about some of the things he's said [and] hasn't apologized for," West said. "The man is 70 years old, so he is who he is. It's just a shame that throughout this process that a lot of those folks were hiding and waiting for the cover of the ballot to represent who they are.
"It's a bit disappointing, I guess," West added. "Just the fact that I think the office, I don't know what type of legitimacy is around it as this stage, but the guy who got elected — it's not just the fact that he got elected but that people voted for him. So I think that's the most disheartening thing."
Matt Barnes
In a since-removed Instagram post from March 2016, Warriors bench forward Matt Barnes issued perhaps the harshest condemnation of Trump of any player on his team. He compared the then-candidate to Nazi leader Adolf Hitler and remarked that anyone who wanted Trump as president should get the "fuck outta here," according to Rolling Stone.
"This who you want to run the country?" Barnes wrote under an image of Hitler removing a Trump mask. "Fuck Outta Here. #AnybodyButTrump."
It remains unclear why or when the post was removed.
Shaun Livingston
Livingston is the backup point guard for Curry, and the only member of the Warriors team who has commented on a team visit to the White House specifically. He told reports earlier this year that, should the Warriors win a championship, he likely would skip any team visit to the president's home.
"I really feel that my views would keep me from going and visiting," Livingston said in a radio interview on 95.7 The Game in February, according to CSN Bay Area. "Just with everything that's going on right now, I just don't agree with a lot of stuff that's happening. I definitely wouldn't go."
Livingston added that head coach Steve Kerr's input would be integral to any bigger team decision — and that whatever happened would likely boil down to what each individual decided to do.
"At the end of the day, it would be his decision and I think we would talk about it as a team — as we usually do — we would come together and it would be a panel of us and we would really sit down and talk about it," Livingston said. "Everybody would give their own opinion and have their own side, and I think he would leave that up to each individual."
Steve Kerr
Kerr is the Warriors head coach and a staunch critic of Trump. In statement after statement, the Bay Area native has leveled withering criticisms at the president's leadership skills, policies and behavior.
Shortly after Trump was elected president in November, Kerr went on a lengthy "rant" to the media, lambasting the "level of discourse" that defined the election, which Kerr said left him "disgusted and disappointed."
"[All] of a sudden, you're faced with the reality that the man who is going to lead you has routinely used racist, misogynist, insulting words," he said. "That's a tough one."
"I have no idea what kind of president he'll be because he hasn't said anything about what he's going to do," Kerr added. "But it's tough when you want there to be some respect and dignity and there hasn't been any and then you walk into a room with your daughter and your wife, who've basically been insulted by his comments and they're distraught. And you walk in and you see the faces of your players, most of them who have been insulted directly as minorities, it's sort of shocking. It really is."
In January, Kerr followed these comments by weighing in on Trump's travel ban, which targeted several majority-Muslim countries and purported to protect the United States from terror attacks. Kerr is no stranger to the fallout from such violence: Kerr's father, Malcolm Kerr, was president of the American University in Beirut, Lebanon, when he was assassinated by gunmen in 1984.
"As someone whose family member is a victim of terrorism, having lost my father — if we're trying to combat terrorism by banishing people from coming to this country, we're really going against the principles of what this country is about and creating fear," Kerr said. "It's the wrong way to go about it. If anything, we could be breeding anger and terror, and so I'm completely against what's happening. I think it's shocking. I think it's a horrible idea, and I feel for all the people who are affected — families are being torn apart."
And in May, Kerr discussed the topic of leadership, and specifically whether tactics like bombast, bullying and insults make a more effective leader. He concluded that they do not — and he used Trump as an example.
"Frankly, I think it's why Trump couldn't be more ill-suited to be president, because he's a blowhard," Kerr said. "You don't see some of the qualities you talk about, the resilience, the ability to communicate, the compassion. None of that ... To be a great leader, there have to be some qualities in there. Has anyone ever thought that Donald Trump was a great leader?"