Georgia Prison Escape: Inmates "on the run" after allegedly shooting, killing 2 guards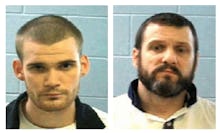 Prisoners shot and killed two guards while being transported by bus in Putnam County, Georgia, and are on the loose, according to the Putnam County sheriff.
Donnie Russell Rowe and Ricky Dubose have been identified as the escaped prisoners, according to the Georgia Department of Corrections.
They are are "on the run" in a green Honda after apparently overpowering the guards, killing them and escaping while traveling on Highway 16, according to a report.
The U.S. Marshals Southeast Regional Fugitive Task Force is now involved in the case.
Fox 5 Atlanta's Katie K. DeJong shared a photo of the scene on Twitter, showing police presence on the highway.
June 15, 2017, 11:42 a.m. Eastern: This story has been updated.