'Skull and Bones' Beta: How to sign up for early access to Ubisoft's pirate game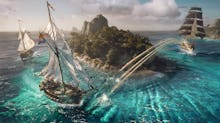 During Ubisoft's E3 2017 press conference, it unveiled a new online multiplayer pirate game called Skull and Bones. Players will be able to play alone or with friends as they sail the high seas and plunder each other's ships for booty.
If that sounds familiar, you're probably thinking of Xbox's Sea of Thieves, which looks like it's tackling a similar idea, but in a much cartoonier, lighthearted way.
Ubisoft said Skull and Bones will be available sometime in 2018, but there's a form on its website where you can sign up for beta access right now.
Skull and Bones beta sign up
If you're interested in checking out Skull and Bones before it officially comes out, Ubisoft has a sign-up sheet on its website for a chance to participate in a beta testing period. There's no information on exactly when this beta will begin, but sign-ups are available across several platforms: PS4, Xbox One and PC.
Check out Ubisoft's site to sign up.
More from Ubisoft E3 2017
Check out more of our coverage from the Ubisoft E3 2017 press conference, including the incredible Beyond Good and Evil 2 reveal, confirmation on the new Mario + Rabbids game, a pirate game called Skull & Bones and surprising new Far Cry 5 gameplay.