'Ink Master' Season 9, Episode 2: A former cast member returns and another team is sent home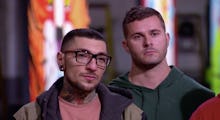 The battle for Master Shop on Ink Master is underway. The ninth season of the Spike reality competition series kicked off with nine teams competing for the $200,000 grand prize. Babiery Hernandez and Jhon Campuzano of Thicker Than Blood were the first team sent packing, but episode two delivered a twist that the remaining contestants didn't know about: When one team is eliminated, another will join the competition. And that's not all. The new teams joining will all feature an Ink Master alum. Cue the dramatic music.
As Ulyss Blair of Allegory Arts points out, the introduction of this twist is like cutting off a head and having another one pop up. Fortunately Ulyss and his wife, Eva Huber, have formed a pretty strong alliance with fellow top shops Unkindness Art and Black Anchor Collective.
So, who is the returning Ink Master artist? None other than Bubba Irwin.
That's right, no one remembers Bubba. So, here's a brief refresher: Bubba owns Old Town Ink in Scottsdale, Arizona. He competed on season four and was knocked out in episode six for having poorly executed designs.
He's back for a second chance and has the added bonus of already knowing how to work under the pressure of the game. Oh, and his teammate DJ Tambe happens to be a phenomenal artist as well.
The original artists aren't threatened by Bubba because they know of his shortcomings. The same can't be said for DJ Tambe. Erin Chance of Unkindness Art knows that DJ Tambe is a "fast and efficient" tattooer — but will he be able to help Bubba get to the finale?
The episode two flash challenge
Bubba has the opportunity to prove himself to the other artists with the episode two flash challenge. Judges Dave Navarro, Oliver Peck and Chris Nunez reveal that the teams will all be tested on fundamentals, which involves everything from drawing, line work and shading. In five hours they must create a design on a 10 foot by 10 foot white canvas ... using only Post-it Notes.
It's interesting to see how the teams work together on this challenge. The arrival of DJ Tambe rattles Erin, and her teammate Doom Kitten is doing everything in his power to keep her head on straight. They've got a good connection and seem to really bring out the best in each other. April Nicole and Dane Smith of Artistic Skin Designs also work well together. Their personal relationship factors into the game as April takes a step back to hug a stressed out Dane. The same can't be said for Ulyss and Eva, the other couple in this competition. The Allegory Arts tattooers find themselves at odds when Ulyss gets defensive over Eva criticizing his "messy" design.
Ultimately the win goes to Old Town Ink, whom the judges praised for great use of fundamentals in their tiger face design.
The episode two elimination tattoo
Like the flash challenge, the elimination tattoo is also being judged on fundamentals. In order to see if Bubba has overcome his weaknesses from season four, Dave Navarro reveals that the artists must do an illustrative line work tattoo. They can only use the line needle and they can't do any shading or use color. The good news is that Bubba's team has the advantage of assigning the human canvases thanks to the flash challenge win.
Switching on and off with their partner for six hours, the artists complete their tattoos and head off to face the judges. There's some drama surrounding Old Town Ink, who used a mag instead of a liner. The other contestants don't think that it's fair, but Chris Nunez gets a good laugh out of it. "I think it's smart," he says.
The judges may be okay with it, but the other teams decide to use their jury of peers vote to send Old Town Ink to the bottom. Does Old Town have the worst tattoo of the episode? No way, and that's what bothers the judges. Oliver Peck tells the jury of peers that they wasted their vote.
Artistic Skin Designs wins the elimination challenge for the second week in a row. The other teams joining Old Town Ink in the bottom are The Marked Society and Tri Cities Tattoo, who were also in the bottom in week one. Tri Cities Tattoo dodges one more elimination round and The Marked Society is sent packing.
Mic has ongoing Ink Master coverage. Check out our main Ink Master hub here.