Forget Pride Month — for these queer teachers, LGBTQ education is a year-long process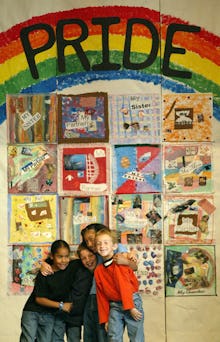 It's hard to miss the signs that June is LGBT Pride Month — brands suddenly put out their yearly rainbow-branded pride collections, parades briefly take over cities across the United States and bigots revive their yearly complaints that there's no "heterosexual pride."
But that's not the case in the classrooms of these LGBTQ-identified teachers. Instead of suddenly bursting with rainbows, these classrooms celebrate LGBTQ history and contributions in the classroom as part of an ongoing process, not a once-a-year event.
Celebrating pride all year long
"I actually feel like we celebrate Pride during the whole school year," Ana Patejdl, a New York City public school teacher, said in an email on Tuesday.
Patejdl, who identifies as gay, has been teaching for 11 years, but wasn't out to her students until three years ago, when the principal at her school encouraged her to revive the Gay-Straight Alliance.
At that point, she said, she was out to everyone in her life except her students. "I didn't hide it but I didn't put it out there for discussion either," Patejdl said.
But when she started her school's GSA, which is now called the Rainbow Alliance, Patejdl said, "I knew I would have to speak openly about myself or it wouldn't feel right." Also, she added, not talking openly about her sexual orientation "would imply that I was hiding it, and I wasn't. It's not something I was ashamed of."
So Patejdl told her students that she was gay. And, she said, "The reactions were overwhelmingly positive … or they didn't really care!" Patejdl said that being out to her students "helped us have real conversations around LGBTQ topics and issues," which she said come up all year long, not just in June.
"Whenever we're reading non-fiction or working on informational writing or argument skills, which is usually tied to social issues, I try to give kids choice around the topics they pursue and LGBTQ issues are usually among the ones they're interested in," Patejdl said.
Leaving "breathing room" for LGBTQ history in the classroom
Nathan Cooke, a ninth grade teacher at a California public school, also said he incorporates LGBTQ history throughout the year instead of focusing on it in June. Part of that is logistical — his school year ended on June 8, he said in an email on Monday, before this year's massive Los Angeles Pride #ResistMarch.
But for Cooke, who is out as bisexual to his students and brings his fiancé to school events, LGBTQ history comes up frequently "through organic discussions" in the classroom. "There aren't specific lessons that center on LGBTQ history," Cooke said, "but I allow breathing room for natural tangents to arise."
Some teachers actively reject the trappings of Pride Month. "Honestly, I didn't think about teaching about Pride Month," Celeste Tannenbaum, a kindergarten teacher at a Chicago public charter school, said in an email on Monday.
"I mostly really hate Pride and the Pride Parade, and all the white-male-cis-capitalist-booze-filled celebrations that this month involves," Tannenbaum said. "Maybe next year I'll try to use it as an opportunity to read a few extra books with queer characters or mention queer identities briefly."
Tannenbaum identifies as queer, but, she said, she is not "truly out" to her students. When she started teaching at her current school, another queer teacher warned her that many of her students' families "were very religious and had very conservative views about queer people."
Still, Tannenbaum said, she tries to bring "queerness" into her classroom throughout the year by challenging gender norms, reading books with queer characters like "And Tango Makes Three" and "My Princess Boy" or, she said, "just by having my super hairy legs out at school whenever possible."
The more visibility, the better
According to Rebecca Mui, an education manager at GLSEN, a national organization that supports LGBTQ issues in education, celebrating Pride Month is important — but it can't be the only time LGBTQ identities come up.
"I think that Pride and the history of Pride is something that all educators should be bringing into their classrooms," Mui said in a phone call on Tuesday. "The more LGBTQ visibility present in classrooms, the better."
But, she added, "Pride, in June, when school is almost over, shouldn't be the first time that you're talking about LGBTQ identities." Instead, she suggested that educators use Pride Month to talk about specific issues, like the important role that transgender women have played in the LGBTQ rights movement.
Mui stressed that the responsibility of talking about LGBTQ identities should fall on all teachers. "It shouldn't just be LGBTQ teachers advocating for and creating visibility for LGBTQ students in schools … It really should be something that all educators feel is part of their job and their responsibility in their classrooms."
"It just comes up."
For Andrea Gardner, a special education coordinator at a New York City public school, it's important to bring up queer history and identities throughout the year instead of just during a specially designated Pride Month.
"I really believe in culturally responsive teaching," Gardner said in a phone call on Monday. "I bring up LGBT contributions or history throughout the year."
Gardner is out as a lesbian to her students, she said, although she said she's never made an "announcement" about her sexuality. "Usually it just comes up … students will ask me if i'm married and I'll say 'Yes.' If they say anything else, about, 'What does he do, what's his name,' I'll say, 'Oh, I'm married to a woman. I have a wife, not a husband.'"
Gardner said she's witnessed students using gay slurs and homophobic language — once it was directed at her, which necessitated a meeting with the parents of the students involved.
"I really see those as teachable moments," she said, saying that when she overhears problematic language she'll pull students aside for a conversation.
Gardner added that it's crucial for classroom teachers to talk about LGBTQ issues no matter what their sexual orientation is. "Silence has been one of the biggest barriers for gay rights since the beginning," she said.
And, for those conversations to be meaningful, they can't just happen once a year — teachers have to make sure to show students those are conversations that can happen at any point. "It's not about providing all the answers," she said. "It's about making space."