What time does the 'Pokémon Go' event start? Fire and Ice June 2017 update is almost here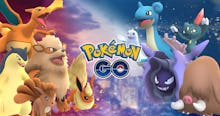 We're inching closer to Pokémon Go's one year anniversary, and Niantic is opting to celebrate things a little early. To that end, they've got a huge event themed around the solstice to enjoy while we wait for — hopefully — incoming changes to gyms and a Legendary event.
If you're just hearing about the Pokémon Go fire and ice event for the first time, or you've been so wrapped up in E3 2017 that you forgot a Pokémon Go event was even happening, we've got you covered.
What time does the Pokémon Go fire and ice event start? Here's what you need to know.
Thankfully, the Pokémon Go twitter account sent out a reminder on June 12 that there was indeed an event happening.
The post embedded in that tweet served as a helpful refresher about what this anniversary event is going to entail, if you've forgotten: Starting at 4 p.m. EST on June 13, players in Pokémon Go will find an increase in fire and ice types all around the world, including Gen 1 and 2 starters like Charmander and Cyndaquil.
As if that wasn't enough, trainers will also receive bonus experience for their throw grade, meaning that now's the time to start perfecting those "great" and "excellent" throws. If you're planning on using the event to level up, Lucky Eggs will also be 50% off in the store, so take the opportunity to stock up. Although it hasn't been confirmed, there's also a chance gyms may be shut down during the event in preparation for changes to how they work.
More Pokémon news and coverage
Read more coverage on the rumored Pokémon Stars, including Nintendo's comments on the potential Switch game and news about GameFreak putting up a "now hiring" sign. Watch how well Sun and Moon could translate to Switch and why we won't see the game come to the home console this year — but at least we're getting portable Pokkén and Gold and Silver again.