'Bachelor in Paradise' Update: Host Chris Harrison comments on "rumors and misinformation"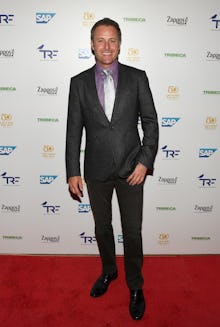 Bachelor in Paradise host Chris Harrison is speaking out as reports surrounding sexual misconduct allegations on the Sayulita, Mexico, set continue to unfold.
The fourth season of ABC's Bachelor in Paradise was forced to shut down production after allegations of misconduct were revealed on Sunday. It was reported the series had stopped filming after contestant DeMario Jackson and another female cast member had a sexual encounter.
Producers stopped production after there were concerns that consent was not given during the interaction and things got explicit between the two, according to sources who spoke to People. Harrison released a statement to Good Morning America on Tuesday addressing the scandal.
"The safety and care of the cast and crew of our show is of the utmost importance to us. It is with this thought in mind that we made the decision to suspend filming," Harrison said.
The host did not disclose much information regarding the alleged altercation between Jackson and the female cast member. Harrison said he would not normally respond to reports, but wanted to set the record straight.
Out of respect to all involved, there's only so much I can and will say at this time. Normally with a situation like this I would not say anything until the incident is fully resolved, but with all the rumors and misinformation being put out there I don't find that to be possible anymore.
Harrison made it clear in his statement that the investigation of the incident is still ongoing and not all of the details are known yet. "I know in this day and age we want and even expect immediate answers but in this case it's just not possible," he said.
He also apologized to the cast and crew of the show for any disappointment the suspension of the series may have caused.
So again I urge you to please be patient and respect the privacy of the parties involved. I will keep you as informed and up to date as I possibly can. We're sorry for any inconvenience and disappointment this may have caused the cast, the crew and our loyal fans. It is my sincere hope that we can come to a quick resolution on this and get back to work very soon.
Warner Bros. released a statement of their own on Sunday regarding the future of the fourth season of the series:
We have become aware of allegations of misconduct on the set of Bachelor in Paradise in Mexico. We have suspended production and we are conducting a thorough investigation of these allegations. Once the investigation is complete, we will take appropriate responsive action.
Mic has ongoing TV coverage. Please follow our main TV hub here.