Otto Warmbier, jailed US university student, reportedly released from North Korea in a coma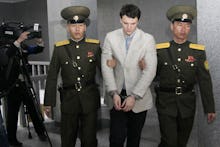 United States Secretary of State Rex Tillerson announced on Tuesday that North Korea has released former University of Virginia student Otto Warmbier, who had been jailed in the country since 2016 for allegedly committing a "hostile act."
According to the Washington Post, Warmbier's parents are being told that their son has been in a coma since shortly after his trial over a year ago — reportedly the result of a case of botulism — and is currently being medically evacuated from the country.
It's unclear how North Korea, a country with notoriously inadequate health care, has sustained Warmbier for that amount of time, or whether the official version of events supplied to the Warmbiers is accurate.
"Our son is coming home," Fred Warmbier told the Post Tuesday morning. "At the moment, we're just treating this like he's been in an accident. We get to see our son Otto tonight."
According to the Associated Press, Tillerson said that Warmbier's release was negotiated by the State Department at the direction of President Donald Trump. Three other Americans remain detained in North Korea, and Tillerson said that the State Department is still working to secure their releases.
Warmbier, a Cincinnati native, had been concluding a five-day trip to North Korea on January 2, 2016, when he was detained at Pyongyang airport for allegedly stealing a propaganda banner. KCNA, the country's state-run media agency, said that Warmbier had come to North Korea with an "aim to destroy the country's unity," and the then-21-year-old was subsequently sentenced to 15 years of hard labor for the crime.
News of Warmbier's release coincides with former NBA player Dennis Rodman's most recent trip to North Korea, which the State Department has stressed is not an official diplomatic visit.
This story is breaking and will be updated.