Richest Celebrities 2017: The 10 highest-paid celebs in the world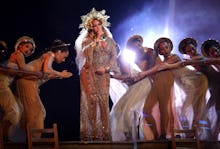 Beyoncé may have had to lighten her touring schedule on doctor's orders this summer, but despite the opportunity cost, she still got paid like a boss. With earnings at $105 million, she was the second-highest-paid celebrity in the world from June 2016 to June 2017, according to Forbes' most recent ranking of the top 100 personalities by pay. That's largely thanks to her Formation Tour, which grossed $250 million.
So who, exactly, brought in enough cash to surpass Beyoncé? That honor would go to Sean Combs, aka Diddy, who netted $130 million last year. Like Beyoncé's loot, part of that was from touring, but more than half of it actually came from an investment: Last year, Combs sold a third of his apparel line Sean John for roughly $70 million.
Forbes' latest list includes a mix of new names and old hands. J.K Rowling made a return to the list, thanks to the release of Harry Potter and the Cursed Child — a stage play whose U.K edition sold nearly 700,000 copies in just three days. Kylie Jenner also appeared on the list for the first time, its youngest entrant at age 19. She netted a cool $41 million last year from a mix of endorsements, Keeping up With the Kardashians, and a clothing line.
Still, despite the presence of many women at the very top of the list, Forbes notes that women celebrities also face a wage gap of their own, making up just 16% of the overall ranking. Hollywood might be partially to blame: While 10 actors made the ranking, not a single actress broke into the top 100. You can see the rest of the top 10 names below, and check out the full ranking here.
10. Lebron James
Earnings: $86 million
Cleveland Cavaliers star Lebron James may not be walking away from this year with a championship title, but he got paid: At $86 million in earnings, James is the second-highest-paid athlete in the world after soccer star Christiano Ronaldo.
9. James Patterson
Earnings: $87 million
Patterson is famously prolific, having written more than 160 books in his 40 year career. At one point, his publishers estimated that one in every 21 books sold each year are Patterson titles, many of which have been adapted into films and movies.
8. Coldplay
Earnings: $88 million
While technically not an individual celeb, musical group Coldplay nets about $5 million to play a live show, and decided to extend 2016's A Head full of Dreams tour into the new year. According to Forbes, the band should net their "biggest payday" yet.
7. Howard Stern
Earnings: $90 million
The radio host and shock jock Howard Stern is the highest-paid man in the radio business; Forbes reports that most of his fortune stems from his contract with Sirius XM, but notes he's investing in digital properties as well.
6. The Weeknd
Earnings: $92 million
The Weeknd — born Abel Makkonen Tesfaye — is arguably the poster child for streaming success, not traditionally a path where artists could make lots of money. Yet The Weeknd's 5.5 billion streams helped him make about $1.1 million from each stop on his most recent tour.
5. Cristiano Ronaldo
Earnings: $93 million
The highest-paid athlete in the world last year was Cristiano Ronaldo, who supplements his $50 million annual contract with Real Madrid with a $1 billion lifetime endorsement deal with Nike, his own suite of branded consumer products and a hotel line.
4. Drake
Earnings: $94 million
Aubrey Drake Graham, aka Drake, had more streams than any other artist in the past 12 months, per Forbes, and makes most of his money touring. He also has a number of endorsement deals with companies like Apple.
3. J.K. Rowling
Earnings: $95 million
It was a big year for Harry Potter ventures, with a new book, the stage play and the release of Fantastic Beasts and Where to Find Them.
2. Beyoncé Knowles
Earnings: $105 million
Beyoncé has numerous ventures in the pipeline, in addition to her music. Along with her husband — Shawn Carter, aka Jay Z, who came in at number 55 on the latest Forbes list — she owns a stake in the streaming service Tidal, which saw its value soar last year, when Sprint invested some $200 million.
1. Sean Combs
Earnings: $130 million
In addition to selling his Sean John stake, Diddy, age 47, also toured this year and inked a deal with Ciroc vodka, which collectively was enough for him to gain the top spot on the Forbes list.
Sign up for The Payoff — your weekly crash course on how to live your best financial life. Additionally, for all your burning money questions, check out Mic's credit, savings, career, investing and health care hubs for more information — that pays off.