Will Trump fire Mueller? Republicans fear "disaster" as allies blast special counsel.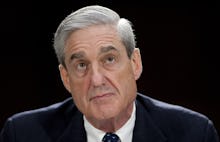 Christopher Ruddy, CEO of the conservative Newsmax and a friend of President Donald Trump, said Monday that Trump is "considering perhaps terminating" special counsel Robert Mueller — a notion that reportedly has the White House in a state of "mass hysteria."
While the idea of Trump firing the special prosecutor tasked with investigating interference in the 2016 election and Trump's potential Russia ties may sound absurd, the White House has not exactly closed the door on the possibility.
"Mr. Ruddy never spoke to the president regarding this issue," White House press secretary Sean Spicer said in a statement. "With respect to this subject, only the president or his attorneys are authorized to comment."
As Ruddy himself pointed out, this didn't really refute any of what he told PBS' Judy Woodruff. Spicer's "bizarre" statement, Ruddy said in an email to Politico, "doesn't deny my claim the president is considering firing Mueller." Deputy press secretary Sarah Huckabee Sanders didn't offer much more clarity when she said, merely, that "Chris speaks for himself."
It seems within the realm of possibility, then, that Trump could make such a move. Here's what we know about the hypothetical so far — and how Trump's friends and foes are reacting.
Some Republicans say firing Mueller would be a "disaster."
Firing Mueller would be a "disaster," Sen. Lindsey Graham (R-S.C.) told Politico Monday.
"What's he done to be fired?" Graham asked.
Graham was one of several prominent Republicans to go on record Monday to caution Trump against terminating the special counsel appointed after his firing of FBI Director James Comey.
"I think Bob Mueller's as good as you're going to find. I don't see any reason to remove him now," Rep. Peter King (R-N.Y.) said, according to Politico.
Conservative commentator David Frum, a senior editor at the Atlantic and a vocal Trump critic, said on MSNBC Monday that axing Mueller could lead to a "kind of an apocalyptic scenario."
"If President Trump really does fire Robert Mueller, he might as well just hire a skywriter to trace in smoke over the White House, 'I am super guilty,'" Frum said.
Meanwhile, Trump allies blast Mueller.
Still, Trump's fiercest allies have targeted Mueller in recent days, questioning his credibility and arguing he is unnecessary.
Former House Speaker Newt Gingrich, a strong defender of Trump, has suggested Mueller will be unfair to the president and tweeted that it is "time to rethink" the special counsel.
Conservative commentator Ann Coulter, another Trump ally, has repeatedly commented that a special counsel is unnecessary — and explicitly called for Mueller's firing.
Trump's opponents warn of impeachment.
Trump's opponents have dared him to fire Mueller — promising to reinstall the special counsel or even impeach the president if he does.
"If president fired Bob Mueller, Congress would immediately re-establish independent counsel and appoint Bob Mueller," Rep. Adam Schiff (D-CA) tweeted. "Don't waste our time."
Rick Wilson, a GOP strategist and Trump critic, fired off a lengthy tweetstorm Monday daring Trump to sack Mueller, saying it would be the "final divorce between the clickservatives and any pretense they believe in the rule of law."
Will Trump really fire Mueller?
So far, only Ruddy has explicitly said that Trump is considering firing Mueller — and as Ruddy himself told Politico, he "didn't speak with the president" during his visit to the White House earlier Monday. He met with Steve Bannon, the former Breitbart chief, according to ABC News.
But, as the New York Times reported in April, Trump consults a roster of friends from outside the White House "at least once a week" — and Ruddy is among them.
According to Josh Dawsey, White House reporter for Politico, Ruddy seems to "understand" Trump more than some of his aides.
But as Dawsey notes, that doesn't mean Trump will fire Mueller.
The decision would have to come from deputy attorney general Rod Rosenstein, due to the independent counsel statute — and Rosenstein said he sees "no basis" to fire Mueller.
Trump could pull a Saturday Night Massacre — the infamous 1973 incident in which former President Richard Nixon accepted the resignations of his attorney general and deputy attorney general when they refused to fire special prosecutor Archibald Cox. But many in Trump's own party have called for him to let Mueller's investigation proceed.
"I think he should let Bob Mueller do his job, do his job independently and do his job quickly, because I think that that's what he would want to have happen," House Speaker Paul Ryan said Tuesday.
Still, some pointed out that firing Comey seemed beyond the scope of possibility, too — until it wasn't.