'Mario Kart' VR: Japanese VR arcade to include 'Mario Kart Arcade GP' in July (Update: New video)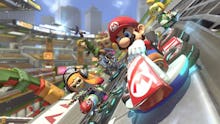 Nintendo has made it clear that it doesn't plan to support virtual reality with the Nintendo Switch yet. So we assumed, reasonably, that we wouldn't see Mario Kart or any Nintendo franchise in VR anytime soon.
Oh, how wrong we were. Enter Mario Kart VR.
Bandai Namco opening Japanese VR arcade with Mario Kart in VR
This comes from a Bandai Namco press release announcing VR Zone Shinjuku, a VR-focused arcade in, well, Shinjuku. It opens on July 14 and it'll include a smattering of VR experiences, mostly based on anime shows. The Dragon Ball Z "Master the Kamehameha" one sounds particularly great.
Anyway. What about Mario Kart in VR?
One of the games at VR Zone Shinjuku will be a VR-enabled version of Mario Kart Arcade GP, the arcade Mario Kart game Namco developed all the way back in 2005. That means it's not a VR version of the recently released Mario Kart 8 Deluxe, so it doesn't include any of that game's unique features.
The bad news: It also means you'll have to go to Japan to play this thing. The press release says it's undetermined whether or not this will ever leave Japan's shores. With arcades being significantly less popular in the U.S. than in Nintendo's home country, don't treat it as an inevitability. At the very least, it's another fun thing to do if you plan to travel to Japan.
July 12, 2017, 3:42 p.m.: This story has been updated.
More Mario Kart 8 Deluxe news, tips and tricks
If you're anxious to get racing in Mario Kart 8 Deluxe, check out our video gameplay of the first 20 minutes of the game and find out the eight characters the game needs ASAP. Check out the best techniques to race with and learn how you can buy the game bundled with the console, including one bundle from Nintendo. Find out if we're expecting DLC and our initial impressions of the new console it's on from back in January. Or you can play Mario Kart 64 on a newer console instead, if you're looking for some nostalgic throwback. And when all else fails, back that thang up.