Alex Jones is just the latest conspiracy theorist amplified by Megyn Kelly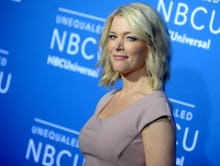 The controversy began almost as soon as NBC News aired a clip promoting NBC News host Megyn Kelly's interview with notorious conspiracy theorist Alex Jones.
The one-and-a-half minute video, in which Jones both asserts his belief that the terrorist attacks on Sept. 11, 2001 "was an inside job" and defends his claims that a horrific shooting at Sandy Hook Elementary School in 2012 was a hoax, incensed family members of some of the children and teachers killed during the mass shooting, who began calling on NBC News not to air the sure-to-be controversial segment.
"Shame on you," Cristina Hassinger, the daughter of Sandy Hook School principal Dawn Howchsprung, who was murdered in the shooting, said.
Nelba Márquez-Greene, whose daughter Ana Grace was killed during the Sandy Hook School shooting, also lambasted Kelly.
"You do not 'shine a light' on someone with such dangerous ideals and ideas," Márquez-Greene said. "Shine a light on the parents, siblings and their journeys."
Kelly defended the segment, saying her job was to "shine a light" on Jones, who has been praised by President Donald Trump and others on the right.
But Kelly's defense was not enough to quiet the criticism, and calls for NBC News to pull the segment have only increased. Sleeping Giants, an anonymous Twitter account that has helped mobilize advertiser boycotts against certain television program, called for the program to be "commercial-free," if the segment is to air, and J.P. Morgan Chase reportedly has asked to pull its advertising from NBC News because of the Jones interview, according to the Wall Street Journal.
Even Jones, in an effort to attract more national attention, said on his show Monday evening that NBC News should drop the segment, arguing that the interview would be deceptively edited to misconstrue his beliefs.
Kelly also lost her spot as a host of a gala benefitting The Sandy Hook Promise group, a non-profit organization that aims to prevent gun violence.
"Sandy Hook Promise cannot support the decision by Megyn or NBC to give any form of voice or platform to Alex Jones and have asked Megyn Kelly to step down as our Promise Champion Gala host," Sandy Hook Promise co-founder and managing director Nicole Hockley said in a statement posted to the organization's website. "It is our hope that Megyn and NBC reconsider and not broadcast this interview."
Kelly, in a statement she posted to Twitter, said she was disappointed in the decision, and that she finds Jones' beliefs "as personally revolting as every other rational person does."
A spokesperson for NBC News did not respond to a request for comment about the controversy.
The outrage over Kelly's interview of Jones has reached a fever pitch, but Kelly's broadcasting of Jones is not the first conspiracy theorist — or conspiracy theory — to which her show has lent its megaphone.
Just two weeks ago, the television veteran interviewed Russian President Vladimir Putin. During the segment, a grinning Putin offered up the Cold War-era conspiracy theory that U.S. intelligence was behind the assassination of then-President John F. Kennedy – with little pushback from Kelly.
"If this theory is correct and cannot be ruled out," Putin said during the interview, in which he disputed U.S. intelligence's conclusion that Russian hackers interfered in the 2016 presidential election, "then what could be easier in this day and age than using all the technical means at the disposal of the intelligence services ... and then pointing the finger at Russia?"
These missteps haven't just been on Kelly's news magazine at NBC News. While on Fox News, Kelly also entertained a number of dubious claims, including devoting dozens of segments to a conspiracy theory alleging that the Obama administration purposely allowed for widespread voter intimidation.
Over the course of her time at Fox, she also devoted segments to deceptively edited recordings — from the anti-abortion group Center for Medical Progress and from the conservative self-described "guerrilla journalist" James O'Keefe. She's said, falsely, that voter fraud occurred on a "massive scale," and has been frequently criticized for making racist comments on her program.
Notoriously, the prime time host became the subject of intense national mockery following a segment during which she declared that Santa Claus and Jesus Christ are, unequivocally, white. (Kelly defended the comments as a joke and said that those criticizing her were "humorless.")
Despite her history on Fox News, Kelly became something of a hero among certain white feminists after now-President Donald Trump lobbed a now-infamous insult her way — "blood coming out of her eyes, blood coming out of her wherever" — following a presidential debate.
The national spotlight on Kelly following Trump's remarks — and other headlines about Kelly that circulated during the sexual harassment scandal involving Fox News head Roger Ailes — were just some of the factors that led Kelly to NBC News, where the network has attempted to rebrand her as a straight-edge reporter.
Kelly's history is clear: It is her track record of stirring up controversy, not her interview skills, that has brought her national attention, name recognition, and high-profile show-hosting gigs. It remains to be seen whether the latest controversy surrounding Jones will prompt Kelly to change course now.