3 reasons why we probably won't be getting a new Taylor Swift album today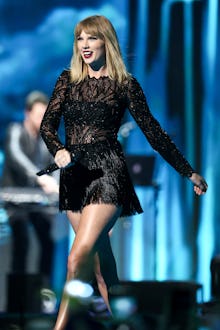 Rumors that Taylor Swift is preparing to release a new album soon have been circulating for a while now.
On Tuesday, Man Repeller released an article suggesting that Swift would be dropping a surprise album really soon. How soon? Tuesday, June 13, to be exact.
According to the article, it makes sense because June is the sixth month of the year and this would be Swift's sixth album, and 13 because it's her favorite number. While the theory is admirable, Swift isn't exactly known for surprise releases. Sure, there is a chance she'll shock everyone and drop a new album, but judging by how she's released all her albums in the past, it probably won't happen.
Her most recent album, 1989, came out Oct. 27, 2014, meaning it has been nearly three years since fans got a new album and she is more than due for new music. But the question remains: when will it happen?
Swift has been noticeably quiet so far this year, which probably means something is on the way. Outside of her rumored romance with Joe Alwyn and her truce with Katy Perry, she's been laying low, but there are rumors she's been recording new music in Nashville, Tennessee.
It's time for new music from Swift, and it could possibly happen before the close of 2017, but not on Tuesday. Here are three reasons why fans shouldn't expect a new Taylor Swift album until later in 2017.
1. Ed Sheeran revealed the release date, kind of
In an interview with BBC News, Swift's good friend Ed Sheeran revealed she's probably going to release an album at the end of the year. Sheeran said that he had the whole year to himself because there was no other major competition when he released his album, Divide, in March.
"Taylor isn't going to be releasing until probably the end of this year," Sheeran openly revealed. "Christmas is the smartest time to release because that's when everyone buys records. So I've got a full year of just all Ed, all the time."
It's been well documented how close the two are, and if anyone would know when Swift's next album will drop, it would be Sheeran.
2. Taylor Swift loves a fall release date
Over the course of her career, Swift has managed to release all her albums in the fall, with four in October and one in November.
Her self-titled debut album was released Oct. 24, 2006. She followed that with her sophomore album, Fearless, which came out Nov. 11, 2008. Her third album, Speak Now, was released Oct. 25, 2010. Her fourth album, Red, was released Oct. 22, 2012. Her most recent album, 1989, came out Oct. 27, 2014.
With a new album every two years, Swift has managed to release all her albums in October or November. Swift is nothing if not consistent with her brand, and it makes sense she would continue to follow the same pattern.
3. She follows a typical album release rollout
Unlike some of her peers like Beyoncé or Drake, Swift follows a typical album release rollout. Similar to Adele and Katy Perry, Swift will release a single or two before the album drops and do the required amount of press appearances.
She hasn't dropped a surprise album in the past. While that could certainly change, if history tells us anything, it's that we should expect an album later this year and that it will roll out as expected.
Before Swift dropped 1989, there was the explosive Rolling Stone interview that teased "Bad Blood," the song rumored to be about her feud with Katy Perry. There were also her very secret and intimate meet-and-greet sessions with fans. All of this, of course, was to help promote the album.
On Friday, Swift released her entire back catalogue of music on several streaming platforms where it was previously unavailable, including Spotify. This could be part of Swift's plan for the album she could potentially release this year; she's planting the seeds early to remind everyone of her music.
Swift is one of the biggest artists in the world, and while it could totally happen that she drops an album unexpectedly, history tells us that isn't her style. It is definitely time for Swift to release new music, and it will probably happen sometime this year — just not right now.
Mic has ongoing Taylor Swift coverage. Please follow our main Taylor Swift hub here.