7 burning questions after the 'Orange Is the New Black' finale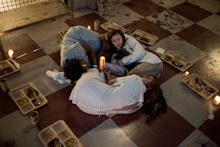 Season five of Orange Is the New Black is a lot. Spanning only three days, the ambitious and aimless new season follows the women of Litchfield as they rebuild society in the absence of authority — like Lord of the Flies but with somehow less murder. While this experimental format lends itself to some great moments, it also neglects storylines and leaves even more threads unresolved. Naturally, we have some questions after the finale.
1. Where is everyone going?
Moments before the season ends, the women of Litchfield — recaptured by authorities — pile ominously into buses. One guard tells Flaca and Maritza they're headed for separate prisons — but where? Are they going to stricter prisons with tighter, nastier security? Or does the state government believe that separating the women will stave off further organizing?
Plus, it won't be long before someone realizes that Angie and Leanne burned all the prisoner records. It's possible that someone backed up the records electronically, but that would be assuming that anyone at Litchfield is remotely competent. Will that shake up some of the inmates' sentences? Will anyone ever see a Flamin' Hot Cheeto again?
2. Can someone please catch Pennsatucky?
Looking back, it's incredible that only two women tried escaping through the hole in the prison fence. While Chang will likely avoid prison for some time — she's a smart one, that Chang — Pennsatucky will probably end up in the arms of authorities soon. She's currently acting out a disturbing domestic scene with Coates, her rapist, and Coates probably won't want to harbor a convicted felon for very long. There's a chance he'll turn her in. Either way, it'll be best if she gets out of there. Despite her flaws, Pennsatucky deserves a man who respects her.
3. What's next for Sophia and Daya?
Sophia had one of the most frustrating storylines of the season. After moonlighting as a prison nurse for a spell, she got herself caught so that she could head to Security Housing Unit — aka SHU, aka solitary confinement — to check in with Sister Ingalls. Unfortunately, Ingalls had fallen ill and earned a "compassionate release," so Sophia had gone to SHU for no reason. And then no one heard from her again. Just like that, Sophia was dropped by episode four. At least she'll have Daya to keep her company. Maybe. It's unclear if Daya is headed to the maximum security prison nearby or if she'll have an even longer sentence. Or maybe no one will hear from her again, since apparently the show is just purging storylines now.
4. Will the bunker women survive?
In an extremely frustrating cliffhanger, riot police break into Frieda's bunker and threaten the lives of the 10 women hiding out there: Red, Piper, Alex, Suzanne, Taystee, Gloria, Blanca, Black Cindy, Nicky, and of course Frieda. It's unlikely all of these women will die, but there could be at least one significant casualty. Now fans will have to wait yet another year to see the actual consequences of this riot, which started forever ago.
5. Will Alex and Piper get a wedding?
One of the season's best moments was when Piper proposed to Alex in Frieda's bunker. These two had been through so much — including a trying cohabitation in the prison yard — so it was lovely to see them make a real commitment to each other. Of course, they also happen to be federal inmates about to face off with riot police, but love is love.
Oh wait. Alex also definitely murdered someone last season. Could that cause a, uh, minor wrinkle? Or is the show just going to pretend that didn't happen?
6. Where the fuck is Healy?
Michael Harney, who plays Healy, earned top billing in the credits for every episode. But Healy himself was nowhere to be found. Is he enjoying life in the psychiatric ward? Is he in an alternate universe? Does he have access to Flamin' Hot Cheetos?
7. Why did only one inmate's battery die?
The riot went on for three days and no one could find any phone chargers. Why did it take twelve episodes for a character, Linda, to indicate her phone was dying? This is the most important question of all.
Mic has ongoing coverage of Orange is the New Black. Check out our main Orange is the New Black hub here.