'Zelda: Breath of the Wild' DLC 1 Release Date: Nintendo reveals when the new expansion will launch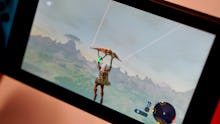 Nintendo's first bit of downloadable content for The Legend of Zelda: Breath of the Wild finally has a release date. Here's when the BotW DLC Pack 1 will launch.
The new expansion is launching on June 30.
The Master Trials will include a new Trial of the Sword mode, which will allow players to square off against waves of different enemies without equipment earned in-game. This trial will impart power to the Master Sword so it'll be able to send out waves of additional damage going forward.
Master Mode will be included as the "hard" mode, which will make for several more formidable enemies and new costumes, armor sets and more from other titles in the Zelda series.
The second DLC pack is scheduled to debut later this year during the holiday season and is named The Champions' Ballad. It'll involve the four champions from Breath of the Wild: Daruk, Mipha, Revali and Urbosa. With new amiibo being released based on said Champions, it's clear they'll play a large role in the DLC.
More news from Nintendo at E3 2017
Check out even more news from Nintendo's big E3 2017 presentation, including an exciting look at Super Mario Odyssey, new details about the Zelda: Breath of the Wild DLC and confirmation that Rocket League is coming to the Switch. Plus the latest on new Metroid and Kirby games on the way.