'Super Mario Odyssey' release date, gameplay, trailer, demo and everything from Nintendo E3 2017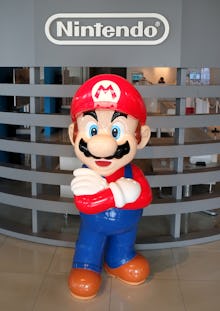 We already knew Super Mario Odyssey would launch for Nintendo Switch later this year. Now we have an official release date, along with some sweet new gameplay footage.
Super Mario Odyssey launches on Oct. 27.
The major revelation about Super Mario Odyssey at E3 was Mario's new ability: Throwing his hat onto enemies and objects to gain control over them. You can control Goombas, Koopas and even a Tyrannosaurus Rex. Yes, there's a dinosaur world in Super Mario Odyssey and you can play as a dinosaur. Game of the century.
They also showed an extended demo of Mario running around New Donk City, which is led by Mayor Pauline. Whether this is the Pauline from the original Donkey Kong is unknown. You can freely explore the (small) city level and complete objectives to collect Moons, which are this game's version of Stars. You need to collect Moons to power your ship and visit new worlds.
Some buildings have open doors and at least one of those doors leads to a closed-off platforming challenge. They also showed a sand kingdom where Mario can wear a sombrero and a poncho in Tostarena Town, which has been covered in ice. That's bad for a desert world.
Finally, each world has a separate currency aside from the regular coins that you can use to buy outfits and souvenirs. That's how Mario can get the sombrero and poncho. Super Mario Odyssey looks totally bonkers and we can't wait to play it this October.
More news from Nintendo at E3 2017
Check out even more news from Nintendo's big E3 2017 presentation, including an exciting look at Super Mario Odyssey, new details about the Zelda: Breath of the Wild DLC and confirmation that Rocket League is coming to the Switch. Plus the latest on new Metroid and Kirby games on the way.