Jeff Sessions' Testimony: Sessions denies any collusion with Russians in tense hearing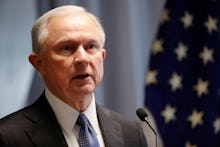 5:09 p.m.: The hearing wraps
After more than two hours, Sessions' testimony has wrapped.
The hearing was tense, as Democrats pressed Sessions on his meetings with Russians during the campaign, as well as his role in the firing of FBI Director James Comey.
Sessions initially denied a third meeting with Russian Ambassador Sergey Kislyak, before later saying if the meeting did happen, he merely didn't "recall" it.
And he essentially claimed executive privilege as he declined to comment multiple times on his conversations with President Donald Trump.
Yet most surprising about the hearing was Sessions' admission that he was never personally briefed on Russia's meddling in the 2016 presidential election.
Initially, Sessions said it would be illegal for Russians to have hacked the Democratic National Committee's emails "if that actually occurred," a conditional statement that raised eyebrows.
Sessions later admitted it "appears" Russia meddled in the election, but added he only read about the meddling in the newspaper.
4:42 p.m.: Sessions says he gets "nervous" with fast-paced questioning
Sessions got frustrated with a line of rapid-fire questioning from Sen. Kamala Harris (D-Calif.).
"I'm not able to be rushed this fast, it makes me nervous," Sessions said.
4:33 p.m.: Sessions says Trump never expressed concern about Russian election meddling
In a line of questioning from Sen. Joe Manchin (D-W.Va.), Sessions said he doesn't remember Trump ever saying he was concerned about Russia's efforts to meddle in the election.
Manchin also asked Sessions about whether he knew if members of the Trump campaign met with Russians, but Sessions didn't "recall" if they had.
4:21 p.m.: Sessions is wishy-washy on Russian hacking conclusions
When asked whether Russians interfered in the presidential election, Sessions said "it appears so," but went on to say he was never fully briefed on Russia's actions.
"I never received any detailed briefing on how the hacking occurred," Sessions said, adding he's only read about it in newspapers.
However, the chiefs of the intelligence community — including Comey himself — have testified multiple times in open sessions their unequivocal belief that Russians meddled in the 2016 presidential election.
4:14 p.m.: Sen. Martin Heinrich (D-N.M.) accuses Sessions of "obstructing" the investigation
Heinrich — frustrated that Sessions continually claimed his conversations with Trump are privileged — said Sessions is "obstructing that congressional investigation by not answering these questions."
"Your silence speaks volumes," Heinrich added.
4:04 p.m.: Sessions won't say whether it would be wrong to fire Comey over Russia
In response to a question from Sen. Susan Collins (R-Maine), Sessions wouldn't say whether it would be wrong for Trump to have fired Comey with the Russia probe on his mind.
"I don't think it's appropriate to deal with those kind of hypotheticals," Sessions said.
However, the question is not really a hypothetical. Trump himself admitted to NBC's Lester Holt that he was thinking of the Russia probe when he fired Comey.
3:55 p.m.: Sessions gets angry with Sen. Ron Wyden (D-Ore.)
An exchange between Sessions and Wyden got tense, after Wyden accused Sessions of "stonewalling."
"I am following the policies of the Department of Justice," Sessions said about not talking about his interactions with Trump.
Sessions added that there is, "secret innuendo being leaked out" about him.
3:51 p.m.: Sessions said he doesn't know if Trump tapes conversations in the White House
Sessions said, however, that Trump would "probably" have to preserve those tapes if they existed.
3:42 p.m.: Sessions refuses to discuss conversations he had with Trump on firing Comey
Sessions effectively claimed executive privilege, and would not tell members of the committee whether he discussed the reasons for firing Comey with Trump.
3:36 p.m.: Sessions backs up Comey's testimony
Sessions confirmed part of Comey's testimony last week, saying Comey did come to him to express discomfort with being summoned to meet privately with Trump.
"His recollection of his concern is consistent with my recollection," Sessions said.
3:32 p.m.: Sessions now says he may have met with the Russian ambassador
Despite his earlier denial that he ever met with Russian Ambassador Sergey Kislyak at the Mayflower Hotel in Washington, D.C., Sessions later said that he "possibly had a meeting" but that he doesn't "recall it."
3:29 p.m.: Sessions said he never spoke to Comey about his job performance
Sessions said he didn't have conversations with Comey to express concern with his job performance before Trump fired him.
Sessions made that admission after a line of questioning from Senate Intelligence Committee Vice Chair Mark Warner (D-Va.).
3:22 p.m.: Sessions says it's not improper for a president to talk to an FBI director
Sessions defended President Donald Trump's interactions with Comey.
"There's nothing wrong with the president communicating with an FBI director," Sessions said.
Last week, Comey said he was uncomfortable with his interactions with Trump, and felt that Trump was directing him to end the probe into former national security adviser Michael Flynn.
3:09 p.m.: Sessions denies meetings with Russians and accusations that he lied under oath
Sessions came out swinging, denying that he ever met with Russian Ambassador Sergey Kislyak at the Mayflower Hotel in Washington, D.C., and calling any insinuation that he colluded with Russians
"I did not have any private meetings, nor do I recall any conversations with any Russian officials at the Mayflower Hotel," Sessions said.
Sessions responded to allegations that he lied under oath during his confirmation hearing, saying that allegation is "false" and that he was instead "taken aback" by a "rambling question" from Sen. Al Franken (D-Minn.).
Sessions went on to say he recused himself from the Russia investigation "not because of any asserted wrongdoing" but because of a Department of Justice regulation that says, "Department employees should not take part in investigations of a campaign that they served as a campaign adviser."
"I did not recuse myself from defending my honor from scurrilous and false accusations," Sessions said.
2:47 p.m.: Chairman Richard Burr (R-N.C.) kicks off the hearing
Burr told Sessions that the hearing is Sessions' "opportunity to separate fact from fiction, and to set the record straight on a number of allegations as reported in the press."
Those allegations, Burr said, included whether Sessions had any meetings with Russians on behalf of the Trump campaign, Sessions' involvement in the Trump campaign's foreign policy team, Sessions' decision to recuse himself from the Department of Justice's Russia investigation and Sessions' possible role in Trump's decision to fire James Comey.
2:40 p.m.: Jeff Sessions arrives
Sessions has taken his seat at the witness table for what's expected to be a tense hearing.
Introduction
Attorney General Jeff Sessions will take the witness stand Tuesday afternoon, where he'll be peppered with questions from members of the Senate Intelligence Committee on everything from his contacts with the Russian ambassador during the election, to the investigation into the alleged ties between Russia and President Donald Trump's campaign.
His testimony comes less than a week after former FBI Director James Comey revealed in a blockbuster hearing that the FBI was "aware of facts" regarding Sessions that "would make his continued engagement in a Russia-related investigation problematic."
Comey later told Senators in a closed-door hearing that the FBI was aware of a possible third, previously undisclosed encounter Sessions had with Russian Ambassador Sergey Kislyak the bureau discovered through intercepted communications. Sessions is expected to deny that the third meeting ever happened, the New York Times reported.
The hearing begins at 2:30 p.m. Eastern. Stay with Mic for updates.