'Super Smash Bros.' Switch E3 2017: Where was the character-filled Nintendo fighting game?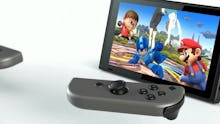 Super Smash Bros. for Nintendo Switch was nowhere to be found at E3 2017, and it has me scratching my chin in confusion.
To be fair, Nintendo's E3 2017 livestream was full of game announcements. Fans received news about titles we expected like Super Mario Odyssey and Xenoblade Chronicles 2, along with games we didn't expect like Metroid 4 and Rocket League. What we didn't see announced, or even hinted at, was Super Smash Bros for the Switch.
Nintendo E3 2017 Presentation: Why wasn't Super Smash Bros. on Switch mentioned?
Wii U games like Mario Kart 8 and Splatoon have come to the Switch in the form of MK8 Deluxe and Splatoon 2. With this precedent set, it makes sense that Nintendo would bring over their other most popular franchises from the Wii U to the Switch. Why, then, haven't we seen any interest in bringing Super Smash Bros. to the console?
It's possible that Nintendo doesn't want to detract from its other fighting game efforts. The Arms release date is set for June 16, meaning if Nintendo brought us Smash Bros. this summer it could be cannibalizing sales for the motion-controlled fighting game.
Arms aside, Nintendo may simply be trying to save some juice for 2018. A game like Super Smash Bros. is a surefire success. With such a stacked 2017, including Super Mario Odyssey coming in October, Skyrim this fall and Rocket League for the holiday season, Nintendo has a full plate in front of it. Super Smash Bros. on Switch could pretty much release at any time and sell truckloads. This, coupled with making sure its 2017 releases don't become overshadowed, gives Nintendo good reason to hold back a new version of Smash. But it doesn't mean we can't be mad about it anyway.
More news from Nintendo at E3 2017
Check out even more news from Nintendo's big E3 2017 presentation, including an exciting look at Super Mario Odyssey, new details about the Zelda: Breath of the Wild DLC and confirmation that Rocket League is coming to the Switch. Plus the latest on new Metroid and Kirby games on the way.