Nintendo E3 2017 'Xenoblade Chronicles 2' gameplay, trailer, release details and more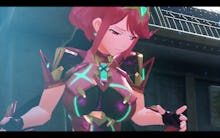 Xenoblade Chronicles 2 got a new trailer at Nintendo's E3 Spotlight, serving up all sorts of gorgeous anime realness. Nintendo didn't announce a concrete release date, but said it was coming out exclusively for Nintendo Switch this year in time for the holiday season.
Even though Xenoblade Chronicles 2 has a numeral in its name, it will feature a different protagonist from the first Xenoblade Chronicles on Wii.
If it's anything like Xenoblade Chronicles X for Wii U, it should feature a gorgeous open world and plenty of anime melodrama. We'll have more on Xenoblade Chronicles 2 as more information becomes available.
More news from Nintendo at E3 2017
Check out even more news from Nintendo's big E3 2017 presentation, including an exciting look at Super Mario Odyssey, new details about the Zelda: Breath of the Wild DLC and confirmation that Rocket League is coming to the Switch. Plus the latest on new Metroid and Kirby games on the way.