Kirby for Switch: Release date details, gameplay, trailer and everything from Nintendo E3 2017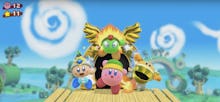 Nintendo just revealed a new Kirby game coming in 2018. The company didn't reveal much else, but we did get a look at the new game.
The upcoming Kirby title will offer co-op gameplay similar to games in the series before it.
Based on the new trailer, it looks like the game will introduce some interesting new mechanics. Kirby can still suck up enemies and float in the air. However, Kirby can also turn enemies into allies, making it possible to build up a team. You'll be able to work with computer-controller characters or with your friends. Each enemy also seems to have unique moves, along with special attacks that combine multiple characters.
Check out the trailer below.
More news from Nintendo at E3 2017
Check out even more news from Nintendo's big E3 2017 presentation, including an exciting look at Super Mario Odyssey, new details about the Zelda: Breath of the Wild DLC and confirmation that Rocket League is coming to the Switch. Plus the latest on a new Metroid game.