Senate leadership restricts reporter access in Capitol, as GOP writes health care bill in secret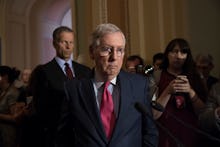 An apparent last-minute rule change by Senate leadership caught Capitol Hill reporters off-guard on Tuesday, when they found themselves blocked from asking senators questions on camera in the hallways of the Capitol without explicit permission, according to multiple reports.
The new directive is a stark change from regular order in the Capitol, where credentialed reporters are traditionally given the same access to hallways and public spaces as Capitol Hill staff.
Sen. Richard Shelby (R-Ala.), chair of the Rules Committee that reportedly made the decision, denied that any rules had changed.
"The Committee has been working with the various galleries to ensure compliance with existing rules in an effort to help provide a safe environment for Members of Congress, the press corps, staff, and constituents," Shelby said in a statement.
Still, multiple reporters said they were told they could not film in the Senate hallways.
And confusion has set off a firestorm in the Capitol.
At least one leader of one of the multiple press galleries on the Hill — tasked with credentialing news outlets and working with the Senate to ensure press access — said he and his other press gallery leaders had no idea the new rules were coming.
"We were not consulted on this and like many senators have been left in the dark," Jason Dick, leadership editor at Roll Call and a member of the standing committee of correspondents for the Periodical Press Gallery on Capitol Hill, told Mic in an interview.
"This is coming not from us, but it is coming from Senate leadership," Dick added. "And by that I mean the Sergeant at Arms and the Rules Committee."
The Radio Television Correspondents Association issued a blistering statement on the change, noting it "strenuously objects" to the sudden pivot.
The apparent rules change comes after reports that there is an influx of reporters on Capitol Hill, creating a possibly dangerous situation.
But it also comes as Senate Republicans are writing their health care bill in secret — without plans to hold any hearings or include their Democratic counterparts in the process before putting the bill to a vote.
And that fact was not lost on Democratic Senators, who called for Senate Republicans to give reporters the same access they've had for years.
Mic staff writer Will Drabold managed to get Sen. Patty Murray (D-Wash.) to express her dismay at the mysterious rule change on camera in the basement of the Capitol.
"I don't know why Republicans are doubling down on their efforts to do the public's business in secret, in secret hearings on health care, not allowing reporters to talk to them in hallways, we have an ability to tell people what we're doing and they're hiding," Murray said.
"I was not consulted and I call on them to allow reporters to do their jobs and proceed as always," Sen. Amy Klobuchar (D-Minn.), ranking member of the Senate Rules Committee, told reporters on Capitol Hill.
"Press access should never be restricted unfairly, particularly not when one party is trying to sneak a major bill through Congress," Senate Minority Leader Chuck Schumer (D-N.Y.) tweeted.
Sen. Chris Murphy (D-Conn.), who has been sounding the alarm bell about the secrecy of the GOP health care bill crafting, echoed similar sentiments.
"It's a dumb rule," Murphy told reporters on Capitol Hill of the rules change. "We can protect ourselves."
Sen. Brian Schatz (D-Hawaii) said in a tweet that the decision was "unilateral" by Republicans, and called it "cowardly."
Sen. Claire McCaskill (D-Mo.), who went viral after she called out Republicans for writing their health care bill in secret, also suggested the rule change was an effort by Republicans to dodge questions on the health care bill.
"Huh?" she tweeted in response to NBC reporter Kasie Hunt's tweet exposing the rules change. "Maybe worried you will catch the group of guys writing health care bill in back room somewhere."
And Sen. Al Franken (D-Minn.) called it a "bad decision. "They should reverse it," Franken told Mic, referring to his GOP colleagues.
According to a tweet from NBC News' Kasie Hunt, the Senate Rules Committee seemed to have ultimately heeded that advice, issuing a statement to reporters that they "may continue to follow the rules as if it was yesterday."
Will Drabold contributed reporting from Washington, D.C.
June 13, 2017, 4:23 p.m. This story has been updated.