$100K for an LGBTQ dream wedding? Tinder will foot the bill if you're lucky.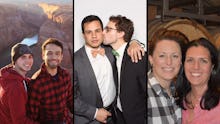 After becoming way, way more gender-inclusive last fall, Tinder, the most-downloaded lifestyle app in America, is seeking to further broaden its commitment to the LGBTQ community this Pride with the announcement of a $100,000 dream wedding contest.
"We believe everyone has the right to marry their perfect match, so today we're looking for one extraordinary couple to win a Tinder dream wedding," Rosette Pambakian, Tinder, VP Comms + Brand, said in an interview. "Sometimes LGBTQ couples don't have the family support for a dream wedding, so that is why we are here to swipe right on their dream."
While many brands find ways to celebrate Pride, whether through campaign videos, donating portions of their proceeds to LGBTQ charities or organizations or simply changing their social media avatars, few find ways to celebrate visible queer love by encouraging members from within the community itself.
Folks are encouraged to enter the contest by posting a couple's picture accompanied by a description of their success story using the hashtag #TinderSuccessStory and tagging @Tinder. The posts will be judged on the following criteria: originality (25%), presentation (25%), emotional impact (25%), and relevance to Pride theme (25%).
The contest will run all Pride month long, with winners being announced on July 5. Below, a look at some of the early entries.