Nintendo E3 2017 Games: The 5 biggest announcements for Switch and 3DS — from 'Metroid' to 'Mario'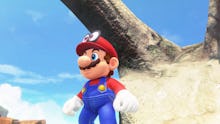 Nintendo packed a ridiculous amount of news into its 25-minute E3 Nintendo Direct. Seriously, it was nuts. Here are the five biggest game announcements from Nintendo's E3 presentation.
Nintendo E3 2017 Games: Samus is back, twice
By far the most shocking development was that there are not one, but two real Metroid games in development. First is Metroid Prime 4, which we can assume is another first-person, 3D Metroid game from Retro Studios. That's coming to Nintendo Switch at an undetermined date, likely far down the pipeline. All we saw was a logo, so it doesn't seem like the game is far along in development yet.
The second game is Metroid: Samus Returns, which is a juiced up remake of Metroid 2 for 3DS. It has 3D visuals but is still a sidescroller, with new directional aiming for more precise shooting. Considering how long it's been since we had a single real Metroid game, it's amazing to hear that we're getting two in the near future.
Nintendo E3 2017 Games: Two Breath of the Wild DLC packs
Nintendo finally showed both upcoming DLC packs for The Legend of Zelda: Breath of the Wild. That massive game didn't need more content, but more is always welcome.
The first DLC is The Master Trials, which looks like a series of combat trials modeled after the Eventide Island quest in the main game. It looks like you'll have to take on groups of enemies using only your wits and any weapons and gear you can find. The Eventide Island quest is fantastic, so that could be fun. It's out on June 30.
The Champions' Ballad is the second, more substantial DLC pack, out this holiday season. It's a new story that seems to follow Zelda and the four Champions from the story. Curiously, Link wasn't shown in the teaser at all. Could this be set 100 years before the game, with Zelda as a playable character? That would be rad.
Nintendo E3 2017 Games: Rocket League goes portable
It's not a new game, but Rocket League took the world by storm when it came out in 2015 and it's looking to do it again on Switch. It wasn't given a firm release date, but it'll have all of the features and modes from the other versions of the game, plus exclusive Nintendo customization items. That means you can put Mario's hat on your car. Excellent.
Nintendo E3 2017 Games: Kirby and Yoshi get new adventures on Switch
Kirby is great. Everybody loves Kirby. He's getting a brand new adventure for Switch, but it doesn't have a name yet. It sure looks like a Kirby game, which is good enough for me.
Yoshi, on the other hand, is back in wool form in the followup to Yoshi's Woolly World. This time, it has some 3D elements, with the ability to throw eggs at objects in the background. You can also flip the world onto the other side to explore different areas in the environment. It's a really cool-looking mechanic that should make this adorable game pretty clever.
Nintendo E3 2017 Games: Become a bodysnatcher in Super Mario Odyssey
Super Mario Odyssey looks like beautiful nonsense. The E3 trailer revealed the game's major new mechanic, which is bodysnatching. No, really. Mario can throw his hat onto enemies, objects and people and control them. You can become an electrical current to travel around New Donk City or control a Bullet Bill, gaining the ability to fly.
It looks amazing. It could add a sense of discovery to the game, meaning you have to experiment to see what you can control and how to use that to your advantage. It's coming out October 27.
More news from Nintendo at E3 2017
Check out even more news from Nintendo's big E3 2017 presentation, including an exciting look at Super Mario Odyssey, new details about the Zelda: Breath of the Wild DLC and confirmation that Rocket League is coming to the Switch. Plus the latest on new Metroid and Kirby games on the way.