'Overwatch' Horizon Lunar Colony Map: Release date announced through behind-the-scenes video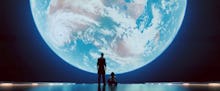 Overwatch's newest map, the Horizon Lunar Colony, is going live on June 20. Blizzard announced the news through its official Overwatch Twitter account.
Along with the release date news, Blizzard released a three-minute video that goes into the background of developing the map, showing various environments from the "Recall" animated short that you can visit.
The patch on June 20 will also introduce a number of other balance changes from the public test realm, like some buffs for McCree and Reaper. You can read up on the full patch notes here.
More Overwatch news and updates
For more on Overwatch, check out the rest of what Mic has to offer. Here is an essay about how Efi Oladele was a missed opportunity for Overwatch, a deep dive into the issue of sexual harassment in Overwatch voice chat, an unintentionally hilarious infographic showing the most popular Overwatch characters in each state, a criticism of Blizzard's failures in its design of Symmetra and a dive into a cool trend on Tumblr that converts your most-played heroes into a psychedelic illustration.