Pokémon RPG Switch Release Date: Pokémon is coming to the Switch but it isn't 'Ultra Sun and Moon'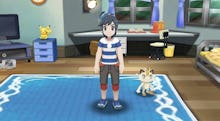 The Pokémon Stars release date has been teased and rumored ad infinitum —and the latest hearsay comes from Nintendo itself. During the company's E3 2017 Spotlight, Tsunekazu Ishihara from Pokémon Company made mention of a "core RPG Pokémon title." Though development has begun, the game definitely won't come this year. Check out the official announcement of Pokémon for Nintendo Switch:
The Spotlight doesn't give us much to unpack. According to Ishihara, the usage of "core RPG" means the Pokémon game eventually coming to Switch (no, not Pokkén) is the one we've all been waiting for. The only other thing the company made clear is that the game will not come in 2017.
Other question marks still surround the potential Pokémon Stars game, like what the game will look like in full HD or how the first single-screen Pokémon game since 2007's Diamond and Pearl will operate. Those answers remain to be seen, but you can be sure that if there's any additional Pokémon announcements in 2017, we'll be there to catch 'em all.
Check out more Pokémon news and coverage
Read more coverage on the rumored Pokémon Stars, including Nintendo's comments on the potential Switch game and news about GameFreak putting up a now hiring sign. Watch how well Sun and Moon could translate to Switch and why we won't see the game come to the home console this year. However, at least we're getting portable Pokkén and Gold and Silver again.