Employees at Ivanka Trump's Indonesian factory allege verbal abuse and paltry wages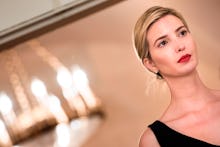 Ivanka Trump is in hot water for her business practices for the second time in as many weeks, this time for a report from the Guardian detailing alleged workers' rights abuses.
Over a dozen employees at Trump's Subang, Indonesia, factory told the outlet they're being paid the lowest minimum wage in Asia to work a job that requires many of them to endure verbal abuse and long stretches of time away from their children.
"I can't stand it any more," Sita, a 23-year-old employee at the Indonesian factory, said. She told the Guardian her seven-month contract with the company — which doesn't include any kind of severance package — is set to expire soon.
"I work unpaid overtime every day and still earn just 2.3 million [rupiah] a month," she continued. "I'm planning to move from Subang, where the minimum wage is too low. But I don't know where to go yet. I haven't got any connections."
Other workers have found themselves in similar binds.
Another employee, Alia, lives with her husband in a boarding house, while their children live with their grandmother in a town hours away. Alia, who only makes $173 a month, can't afford to have them live with her and can only scrape together enough money to visit them one weekend a month.
The company has also allegedly invented underhanded methods to avoid paying for overtime or a federally-mandated "religious holiday bonus" by punching out employees before they leave work and firing Muslim employees before Ramadan.
These allegations follow news of three labor activists who were detained in China earlier in June for investigating the work conditions in a Chinese factory that produced shoes for Trump's brand. In May, the trio released a report alleging that some employees were being paid less than $1 an hour and working over 70-hour weeks.
Such revelations into Trump's business practices have caused many to accuse the business mogul and self-proclaimed advocate of women's rights of hypocrisy. And, if nothing else, Trump's recent book Women Who Work demonstrated how out of touch the Trump empire heiress is with the average minimum wage earner — many of whom she employs.
When a Guardian reporter told Alia about the contents of Trump's book, she laughed and told the outlet her equivalent of Trump's "work-life balance" involves her seeing her children more than once a month.
Some are willing to chalk up the allegations against Trump's factory conditions as standard operating procedure for clothing companies outside of the United States. But Jim Keady, a labor rights activist with expertise in Indonesian labor practices, told the Guardian he believes the responsibility ultimately falls on Trump to promote fair and just treatment at her factories.
"The buck stops with her," Keady said. "It's her name that's on the dress. Without her there is no brand."