'Metroid: Samus Returns' Release Date: Nintendo 3DS remake revealed at E3 2017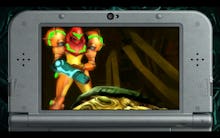 Nintendo just surprised us with a second Metroid announcement. Metroid: Samus Returns is set to launch on the 3DS on Sept. 15, 2017. A tweet announcing the remake was posted to Nintendo's twitter account a few minutes after the reveal.
The tweet promises classic sidescrolling Metroid action with improved graphics and new abilities, and the attached trailer doesn't disappoint. In it, you get some peeks at classic Metroid staples such as Samus' Varia suit, her gunship and the titular alien menace itself.
Extra exciting are the shots of Samus in action, dispensing some serious butt-kicking with classic arm cannon and rocket upgrades while dishing out some ridiculously brutal-looking uppercuts. The trailer is embedded below if you want to check it out for yourself.
Metroid: Samus Returns drops this fall on Sept. 15, 2017 for the 3DS.
More news from Nintendo at E3 2017
Check out even more news from Nintendo's big E3 2017 presentation, including an exciting look at Super Mario Odyssey, new details about the Zelda: Breath of the Wild DLC and confirmation that Rocket League is coming to the Switch. Plus the latest on new Metroid and Kirby games on the way.