Report: Uber CEO Travis Kalanick to take leave of absence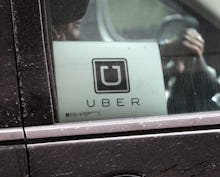 Uber CEO Travis Kalanick will step away from the ride-hailing giant in an effort to work on himself and on building out a "world class leadership team" for the company, the New York Times reports.
In an emailed statement obtained by the Times, Kalanick said that "the ultimate responsibility, for where we've gotten and how we've gotten here rests on my shoulders."
"There is of course much to be proud of but there is much to improve," he wrote.
On Tuesday, Uber also announced the results of a probe conducted by former U.S. Attorney General Eric Holder, who had been investigating rampant allegations of sexual harassment and discrimination at the company.
The 47 recommendations listed in the report include rewriting Uber's cultural values, instituting clear guidelines on alcohol consumption and the use of controlled substances during work hours and prohibiting intimate relationships between employees and their bosses.
In a statement, Uber said that the recommendations had been unanimously adopted by its board.
"Implementing these recommendations will improve our culture, promote fairness and accountability and establish processes and systems to ensure the mistakes of the past will not be repeated," the statement reads.
After Susan Fowler, a disgruntled employee, wrote a blog post detailing a culture of sexual harassment and discrimination at Uber in February, the company launched what it described as an "urgent investigation" into the veracity of those claims. Holder was summarily hired to conduct "an independent review" in tandem with an Uber board member, the head of human resources and an attorney who works for the company.
"It is my number one priority that we come through this a better organization, where we live our values and fight for and support those who experience injustice," Kalanick said at the time.
A week before the results of the probe were made public, an unnamed source told Bloomberg that Uber had already fired more than 20 employees based on the results of a separate investigation, and that 57 other cases were still being looked into. An Uber spokesperson confirmed the figures to Mic, and said that the terminations fell into categories that included sexual harassment, discrimination, unprofessional behavior, bullying and retaliation.
Shortly after the results of the probe and Kalanick's leave of absence were announced on Tuesday, Fowler took to Twitter to criticize what she characterized as a ham-fisted response.
"Ha! Yeah, they'll never apologize," she tweeted. "I've gotten nothing but aggressive hostility from them. It's all optics."
This story is breaking and will be updated.