These are the 3 most booked hotels in the world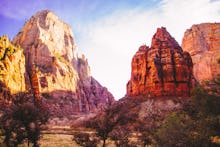 Where are the most popular hotels on earth? If you're picturing a remote bungalow on blue waters or a Renzo Piano-inspired skyscraper with over-the-top room service, well, guess again. The top three most booked hotels — according to TripAdvisor data — are all located within the United States.
Two out of these top three are understated lodgings within seven miles of each other and in close proximity to the Grand Canyon. This alone tells us something: While the world's finest hotels can dazzle and excite, nothing compares to natural beauty. Maybe we don't live in such a material world after all?
These popular bookings may even suggest that many travelers have cracked the happiness code. A 20-year study conducted by Thomas Gilovich, a Cornell psychology professor, found that experiences, not things, are what bring us joy. Spending less on impressive amenities for the sake of location is a smart trick when budgeting for bliss.
TripAdvisor sees 390 million unique visitors on a monthly basis, meaning a whole lot of eyes scan some of its six-million-plus accommodations. Below, the top three places where thousands of people have chosen to rest their heads after a wild, stunning day of experiencing this big, beautiful world.
3. Yavapai Lodge, Grand Canyon National Park
The interior features of this 358-room lodge are perfectly acceptable, but they're nothing to write home about. But a half-mile walk or complimentary shuttle bus ride takes you to the South Rim of the Grand Canyon, where you'll find vast views of red rock and multiple trails that'll take you to overlooks for even more breathtaking sights.
Our take: Yavapai's main attraction must be its location. TripAdvisor reviewers note how close to nature this lodge will bring you: Elk, mule deer, moose and other statuesque creatures roam freely around the grounds, for an even more authentic experience of being one with nature.
Adjacent to iconic Central Park, this hotel is also all about location, though it probably summons fewer wild animals (unless you count wandering pigeons). The 46-story, 628-room building is stacked with always-appreciated amenities like a gym and a historic hotel bar, but its real charm lies just outside its doorman-guarded revolving doors, where you can enter the park by way of the West 59th street entrance. No matter the season, Central Park has a constant stream of admirers — 25 million, annually — since it offers a bounty of things to do. Among them are zoos, ice skating rinks, outdoor museums, concerts, hot dog carts, Hollywood sets (more than 350 films have been shot here), possible wildlife (apparently a crocodile once called the park home), secret holiday monuments. Who wouldn't want to be steps away from this diverse wonderland? Beyond the park, plenty of other prime tourist destinations are nearby, including theaters on Broadway, Fifth Avenue shopping, museums galore and supreme skyscraper gazing.
Our take: Perhaps most importantly, the Park Lane Hotel's nightly rate can slip under the $200 mark, which is a rare occurrence for hotels in the surrounding area. For travelers, the price is right to be so close to one of the world's most beloved attractions.
Why is this particular chain hotel such a coveted spot? The arcade, bowling alley, pools and free breakfast may draw a certain crowd, but its proximity to the Grand Canyon is what makes this Best Western TripAdvisor's most-booked hotel in the world. Five million people visit the Grand Canyon every year, a good act of self-medicating, since spending time outdoors can change our brain chemistry and better our mental health.
Our take: Within the park's 1.2 million acres, visitors can expect a lot of unknowns. So, perhaps it makes sense to keep the variables to a minimum by booking a chain hotel that is near-guaranteed to be, at the very least, decent.
Best Western has more than 4,000 hotels in more than 100 different countries, giving the impression that the company has the whole running-a-hotel thing down to a science. The Squire Inn in particular is among the more affordable lodging options in the area. With so much to see in the colossal canyon, why pay more for a place where you'll only be sleeping?