Mayor Pauline 'Donkey Kong': New Donk City's leader in 'Super Mario Odyssey' is a returning guest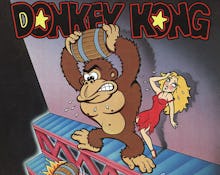 After Nintendo revealed the new trailer for Super Mario Odyssey at E3, it showed actual, hands-on gameplay of its biggest titles. One name that kept coming up during the Super Mario Odyssey portion was "Pauline," the mayor of New Donk City.
So, who the heck is Pauline? What's her deal?
Like everything in New Donk City, "Pauline" is a character with deep ties to the history of the Donkey Kong franchise — and you've almost certainly already heard her voice.
Who is Super Mario Odyssey's Pauline?
Before the days of Peach, Daisy or any of Mario's other main squeezes, there was Pauline, who first appeared in the original Donkey Kong game from 1981. But unlike nearly all of Mario's love interests, Pauline is not a princess. She's just your run-of-the-mill, absurdly-beautiful-yet-helpless human woman. So, naturally, it didn't work out between her and Mario.
It seems like that very same Pauline is now the mayor of New Donk City. Not only that, but it seems like she's the singer of the band that plays the song in the new trailer. You can hear an isolated version of the song below.
If you look closely, Pauline actually makes a brief appearance in the trailer, too.
Her character design in Super Mario Odyssey looks like it'll be in line with her later appearances in the Mario vs. Donkey Kong games rather than her original Peach-like design in the original Donkey Kong.
In a way, converting Mario's original damsel in distress into a person with significant political power is a fun inversion of a tired trope. Nearly everything in New Donk City — from street names to shoddy bodegas — is named after something from Donkey Kong lore, so it's nice to see Nintendo interpret those old bits and bobs into something fresh.
June 14, 2017, 10:34 a.m.: This story has been updated.
More news from Nintendo at E3 2017
Check out even more news from Nintendo's big E3 2017 presentation, including an exciting look at Super Mario Odyssey, new details about the Zelda: Breath of the Wild DLC and confirmation that Rocket League is coming to the Switch. Plus the latest on new Metroid and Kirby games on the way.