The story behind MNDR and Scissor Sisters' "SWERLK," the unofficial LGTBQ song of summer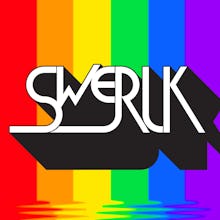 Pull out your mommy's old roller skates
Put one of 'em on and like flamingo the other leg
Swirl it and twirl it (swerlk)
And twerk it and swerve
And you know like do all of that
You can do that (girl swerlk)
Nearly five years after the Scissor Sisters announced their "indefinite hiatus" (much to fans' chagrin) following the release of what became a certifiable gay anthem "Let's Have a Kiki," they have made their welcome — and triumphant — return. On Friday, the band released their first new single since 2012 titled "SWERLK," a collaboration with singer/songwriter MNDR.
"SWERLK as a term did not exist at all before MNDR brought it to us," Scissor Sisters' Babydaddy said in an interview. "MDNR had always been a fan of Scissor and wanted to do something fun and collaborate with us, and we figured it was a fun way for us to dip our toes back in as a band — and also benefit a good cause."
Adding: "We say 'we feel SWERLK-y.' If we say 'you betta SWERLK' then we really mean it. I hope people start saying it."
The "charity single," as it is being billed, is helping raise money for the Contigo Fund, an organization that emerged in the wake of the mass shooting at the Pulse night club last year during Pride month. The organization seeks to "heal, educate and empower LGBTQ and Latinx individuals, immigrants and people of color, as well as those working to end all forms of bigotry in Central Florida."
"It hadn't gone from our head," Babydaddy said in reference to the shooting that left 49 LGBTQ people, most of them Latinx, dead. "We were shocked collectively at how little press it seemed to really hold on to for something that was the largest mass shooting in American history. As the one year anniversary was coming up it, it felt like it had been in our distant past, something we had already dealt with in someone people's eyes, and to think it had only been a year and people had already moved on to other issues made it so important to us. What makes this tragedy particularly important to remember is that it wasn't just an attack on the gay community, it was an attack on minority communities within the gay community as well."
More then that, he says they felt a collective obligation as artists who had come up through the gay club circuit. "We are not only a band that has through the years enjoyed what the gay community and nightlife and escapism has to offer, but we feel like we wouldn't exist without it," he said. "It's just the truth. We came up in the bizarre gay/queer electro-clash clubs in NYC; MNDR has a huge base that's maybe even slanted toward the drag community. What we are maybe best at is helping people have fun and escape and remember that the most important thing about Pulse was the sense of community around dance and music and all those things that make the gay community so inspiring and feel so safe for so many people. We're at our best when we're helping people dance and have fun."
Asked if the reunion of the beloved band could lead to the permanent end of their prolonged hiatus, Babydaddy had good-ish news for Scissor Sisters fans. "The dialogue was opened up for sure, but the reality is [lead singer] Jake [Shears] just started working on his solo launch and what I think that did is make us say 'Okay when he's finished up with that, where are all of our heads going to be?' I would never do it for the wrong reasons; I would do it because things feel right and that not just we want to do it but people want us to do it. But nothing is ruled out at this time!"
Listeners can receive a free download of the song by going to swerlk.com and donating any amount of money with all sales being donated to the Contigo fund. The track is also available on Spotify, iTunes and Apple Music.