Attorney General Jeff Sessions testifies he has "confidence" in special counsel Robert Mueller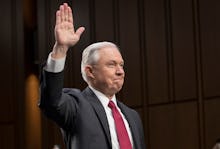 In his Senate testimony Tuesday, Attorney General Jeff Sessions said he had "confidence" in special counsel Robert Mueller — who is rumored to be on President Donald Trump's chopping block.
"I have known Mr. Mueller over the years," Sessions said. "He served 12 years as FBI director. I knew him before that. I have confidence in Mr. Mueller."
The remark came during questioning from Sen. Mark Warner (D-Va.), vice chair of the Senate Intelligence Committee. Warner had asked Sessions about a comment from Trump friend Christopher Ruddy, who suggested Monday the president was considering "terminating the special counsel."
Some of Trump's closest allies, including former House Speaker Newt Gingrich, have questioned Mueller's fairness and the need for a special counsel. But a number of prominent Republicans cautioned Trump that firing Mueller, who is overseeing the investigation into Russian interference in the 2016 presidential election, would be a "disaster."
Deputy Attorney General Rod Rosenstein, for his part, said Tuesday that Trump cannot fire Mueller — and that he saw "no basis" to terminate the special counsel.
Sessions claimed he "[didn't] know about these reports" and wouldn't comment on "any hypotheticals." He also declined to say whether he believed Trump had confidence in Mueller, saying he hadn't discussed the matter with the president.
However, Sessions did testify he could "say with confidence" that he would not take any action in a potential firing of Mueller because of his recusal from the Russian probe.
"I wouldn't think that would be appropriate for me to do," Sessions said.
"Yes sir, I agree," Warner replied.
Follow Mic's live blog of the Sessions testimony here.