Sessions Testimony: AG waffles on question of alleged third meeting with Russian ambassador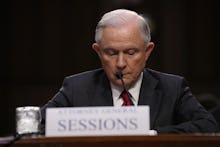 During his testimony before the Senate Intelligence committee, U.S. Attorney General Jeff Sessions repeatedly claimed he could not remember whether he met Russian Ambassador Sergey Kislyak a third time at Washington, D.C.'s Mayflower Hotel during an April 26, 2016, event for President Donald Trump's presidential campaign.
In his opening statement, the attorney general said unequivocally, "I did not have any private meetings, nor do I recall any conversations with any Russian officials at the Mayflower Hotel." But as he started fielding questions about such a meeting, his insistent tone wavered.
Grilled for more details on the meeting, which former FBI Director James Comey testified on the possibility of in a closed-door hearing with members of Congress, Sessions would only say he did not "recall it."
But he maintained that if he had met with Kisylak — a potentially concerning development, considering the date falls in the middle of a widely alleged Russian intelligence operation to leak damaging information about Democratic nominee Hillary Clinton — it was not improper.
"I don't recall it," Sessions told Sen. Mark Warner. "Certainly I can assure you nothing improper if I'd had a conversation with him. and it's conceivable it occurred, I just don't remember it."
Warner grilled Sessions as to why, if a meeting possibly occurred, this one was not noted in his prior testimony.
"Well, I guess I could say that I possibly had a meeting, but I still do not recall it, and I did not in any way fail to record something in my testimony or in my subsequent letter intentionally false," Sessions responded.
Photos showed Sessions in close proximity to Kislyak at the event. What's more, BBC reporter Anthony Zurcher tweeted that Kislyak was indeed in attendance at the Mayflower speech and "everyone knew."