What is going on in Young Thug's disturbing and violent 'EBBTG' trailer?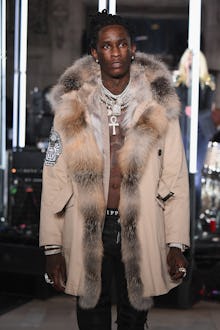 Back in October 2016, Atlanta rapper Young Thug was thinking about changing his name to something more warm and welcoming. "I don't want people to be afraid, or ready when they see me," Thugger said, during an XXL interview. "I want to be greeted the right way, embraced the right way ... because I really got a good heart."
The conversation happened shortly after the release of August's Jeffery, his most recent mixtape. Fast-forward to nearly a year later and it seems he's no longer trying to come off as the rapper with the biggest heart. Tuesday, Young Thug dropped a trailer for his upcoming project E.B.B.T.G., which depicts a group of masked women violently assaulting another woman who's coming from yoga class.
They beat her with bats until she's unconscious and bring her to a house where they tie her up and cover her face with pieces of duct tape bearing the record's full title: Easy Breezy Beautiful Thugger Girls.
This clip immediately begs the question: Who in Young Thug's camp thought this was a good idea?
Thus far, Thugger has billed this project as being his "singing album," which will reportedly be executive produced by hip-hop's troubled heartthrob Drake. The room where the robbers bring the beaten and bloodied girl appears to match the cover art, which Young Thug also shared Tuesday. In the artwork, he appears as a semi-translucent torso, clutching a guitar and surrounded by ropes, candles and mannequin limbs.
All of this only makes it more difficult to parse how the viewer is supposed to interpret the trailer's graphic and seemingly random act of violence. Without context, it's hard to view it as anything beyond a glorification of violence against women, which has a long, complex lyrical and historical precedent in hip-hop.
The album, likely coming Friday if the Instagram caption revealing the cover art is to be believed, might put the scene in perspective. But until then we're left wondering: Who is this trailer supposed to appeal to and what is going on up at 300?
Mic has ongoing music coverage. Follow our main music hub here.