Could Trace Lysette become the first out trans primetime Emmy-winning actor?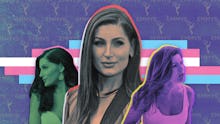 When the nominees for the 69th annual primetime Emmy awards are announced on July 13, a unique opportunity to make history could be in sight for only the second time. Actress Trace Lysette (Transparent) is among a small handful of potential nominees who could finally break the glass ceiling and win the first-ever acting award for a transgender person at the ceremony. It's a possibility that has been suggested by both Variety and The Hollywood Reporter.
Lysette, Jamie Clayton (Sense8), Alexandra Grey (Drunk History) and Alexandra Billings (Transparent) have all had their names submitted for contention to the Academy of Television Arts and Sciences, the governing body that decides the nominees, and are all trans. (Actor Asia Kate Dillon of the Showtime series Billions, who identifies as non-binary, has also been submitted and would make history themselves if nominated.)
"It would mean so much for one of us to get through and be recognized for putting in the work and playing ourselves, because we need to be validated in that way," Lysette said in an interview. "We need the next generation to see that yes, that glass ceiling can be broken and yes, you can play yourself and be celebrated for it instead of perpetuating this whole cis-hetero men playing us — and winning awards for playing us — for 40 years."
Lysette's character first appeared on Transparent in season one, but one episode turned into two and, by season two, she was back for half the episodes. But she saw that her performance in Season 3, episode 6 "The Open Road," was when "I finally got the chance to really dig in and showcase myself in a way that felt whole; and in a way that spoke to my soul."
"Trace always brings an authenticity, a real depth of feeling and often a great sense of humor to the roles that she plays," Nick Adams, GLAAD's director of Transgender Media Program, said in an interview. "You can always see that she is bringing dimensions and facets to these trans roles that are sometimes in the script and sometimes not, but she is able to draw on her experience to create a fully well-rounded character."
In 2014, Laverne Cox made history as the first-ever openly transgender individual to be nominated for a primetime Emmy in an acting category. (The award ultimately went to her Orange Is the New Black co-star Uzo Aduba.) But the list of honored cisgender actors who played transwomen is much longer, and includes Tom Wilkinson in Normal, Jared Leto in Dallas Buyers Club, Eddie Redmayne in The Danish Girl or Transparent's own Jeffery Tambor.
That latter instance, Lysette explained, is somewhat of an acceptable outlier. "It's a slightly different situation being that that character was based off of Jill's parent and they are very much a newbie and still figuring out their gender and not even medically transitioned," she said. Another factor weighing in Tambor's favor, according to Lysette, is the age of Maura, the character Tambor portrays. "It's a different thing when you're first starting to transition that late in life. It's somewhat of a better match because Maura is so new to transition and just getting her feet wet."
That very authenticity is the crux of the issue. "A lot of cis men try to take [playing trans] on, but you cannot get it right if you do not really do your research and immerse yourself in trans culture," Lysette explained. "But even still, there's still some lived experiences you just can't harness unless you have walked in our shoes."
An Emmy nomination, let alone a win, for Lysette (or any trans actors) is more than your typical industry ego-stroking. It would affirm and reward the subtle nuances that trans actors bring to their work. "Trans actors, when they're cast to play trans roles, can bring their own experience and they can focus on playing the character and not be focused ... on 'playing trans,'" GLAAD's Adams explained.
But in order to break through ceilings of any kind, opportunities must be granted. "It's still very much a cis, hetero, white male-dominated space," Lysette said of Hollywood. Statistics bear that out: A study by the Media, Diversity, & Social Change Initiative at the University of Southern California Annenberg School for Communication and Journalism found that women, people of color and queer characters are vastly underrepresented in Hollywood. The top 100 films of 2014, for instance, featured zero trans characters.
Is the landscape shifting? Thanks to shows like Transparent, Orange Is the New Black, Billions, Sense8 and more, yes. But one crucial step remains: casting great trans actors to play any role.
As actress Jen Richards wrote for NewNowNext, responding to the controversy around Matt Bomer's casting as a transgender woman in the Mark Ruffalo-produced film Anything: "On the one hand, we can't play entry-level parts that aren't written as trans because it never occurs to casting directors that the gender identity of 'Unnamed Barista' really isn't relevant. And then we lose trans parts to men, because we don't read as trans. There's no place for us."
"We don't want to be stuffed in this little box, only being called upon when there is the odd trans role available on a project," Lysette said.
"I have so much more to say and relate to the world in my experience as a woman first; the fact that I am trans is an added layer that can aid in my character work for non-trans roles as well," she explained. "I have learned to harness all of my experiences in all of their uniqueness and let them aid me in my craft. It is the only antidote for what I've been through. It is the only way I can stay sane."
"The colors and scars and joy and pain of being trans helps me translate a character to the world whether that character is trans or not."